UNIFIL's KRI Frans Kaisiepo & HS Themistocles Joint Exercise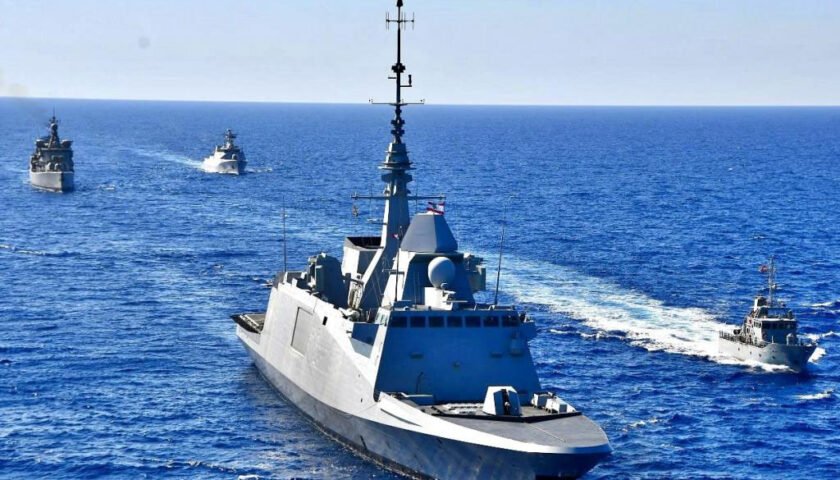 An important leap in the implementation of the UN mandate on the capacity building pillar was again carved by the TNI Konga XVIII-N / UNIFIL MTF Task Force. KRI Frans Kaisiepo-368 together with HS Themistocles F-465 (Greek frigate) are trusted to represent UNIFIL's Maritime Task Force (MTF) in the first joint joint joint exercise held in the Mediterranean Sea involving the French frigate FS Languedoc D-651, the patrol boat Lebanese Armed Forces (LAF) Navy LNS Tabarja, the LAF Air Force Super Puma Heli, Quick Response Units, Coastal Radar Sites, and several relevant Lebanese Government stakeholders.
The exercise began with a Search and Resque Exercise (SAREX) responding to distress from a ship sinking off the coast of Beirut. With good collaboration, the victims were found and then evacuated by sea and air to Saint George Hospital Beirut for further treatment. The exercise continued with maritime picture compilation, full spectrum Maritime Interdiction Operation, advanced maneuver, flashing exercise, winching exercise, cross deck landing exercise, air medical evacuation, and photo exercise. The exercise is designed to enhance interoperability and operational preparedness in response to the dynamics of regional maritime security while building Lebanon's military capacity. In the exercise, KRI Heli Direction Officer Frans Kaisiepo-368 gained unique experience to control the French NH90 Heli, as well as the Indonesian Panther HS 1306 Heli had the opportunity to land on the heli deck of the French pride frigate.
"The success of this exercise is a manifestation of the success of Indonesia's military diplomacy in the global arena. This is also an important achievement in the implementation of the UN mandate based on UNSCR 1701, especially in the capacity building pillar to accelerate the transfer of responsibility to the Lebanese military in securing its territory independently, explained the TNI Konga XVIII-N / UNIFIL MTF Task Force, Lieutenant Colonel (P) John David Nalasakti Sondakh. MTF Commander, RADM Michael Busse (Germany) expressed his appreciation for the success in planning and executing the exercise which he said was an important achievement in the history of MTF.