VMM-363 MV-22B Flight Deck Certified on HMAS Adelaide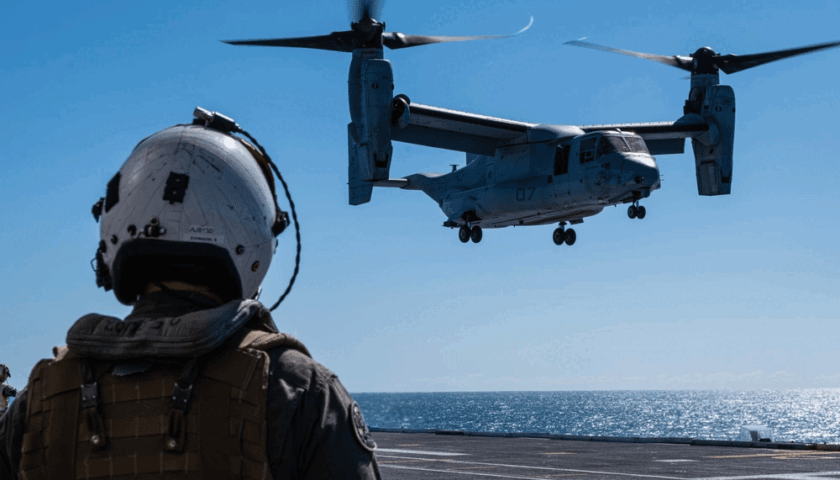 MV-22B pilots from Marine Medium Tiltrotor Squadron 363 (VMM-363) Reinforced, Marine Rotational Force – Darwin 23, recently refreshed their deck landing qualifications via the Royal Australian Navy's HMAS Adelaide, off the coast of Queensland, Australia. The integrated training was in preparation for upcoming combined exercises where four MV-22B Ospreys from MRF-D will embark on HMAS Canberra to conduct combined amphibious operations.
"Deck landing operations are perishable skills that require regular practice to maintain proficiency," said Capt. Colton Morris, an MV-22B pilot with VMM-363 (REIN). "The repetitive nature of these exercises instills confidence and familiarity, reducing the likelihood of errors during critical moments — this level of comfort is essential in high-stress situations where split-second decisions can make a significant difference."
Landing on the deck of a moving ship presents a challenging and complex environment that mirrors the demands of real-world operational scenarios. The training serves as an incremental step toward more extensive operations, fostering teamwork and allowing participants to understand the intricacies of working together in a challenging situations. Through the continuous progression of training exercises, combined forces gain valuable experience and the expertise necessary for the successful execution of complex missions.
"With the assistance of HMAS Adelaide, we have created an environment where both forces can become comfortable working together, allowing smooth execution of operations," said Capt. Andrew Curry, air officer for MRF-D. "The ability to work seamlessly with Allied forces is vital in today's interconnected military landscape."
MRF-D's collaboration with the Royal Australian Navy for this evolution is an example of the many combined training events that occur during each year's rotation. Opportunities like this showcase combined capabilities and build trust between the participating units.
"Over the course of the last two years, VMM-363 has been able to seamlessly integrate with the ADF, further developing our relationship and strengthening the coalition force," said the commanding officer of VMM-363 (REIN), Lt. Col. Joe Whitefield. "These recent landings demonstrate the ADF's willingness and eagerness to operate alongside U.S. forces. We have now landed on all Australian Canberra (LHD) class ships to include HMAS Canberra and HMAS Adelaide, greatly expanding interoperability and joint capabilities."
Through a practice called crew-swapping, the two forces gained insight into each other's operational procedures and best practices, while building personal connections. The exchange provided each service with a deeper understanding of their Allies' equipment and the tactical approaches required to use that equipment.
"Marines have been rotating through Darwin for more than a decade, but by nature work most often with the Australian Army. Being an amphibious force however, it's vital to integrate not just between land warfare units but also air and sea," said Captain Troy Duggan, Commanding Officer of HMAS Adelaide LHD-01. "I know our aviators relished the opportunity to have Ospreys aboard, and I'm sure the unique experience of landing on an Aussie LHD was something the Marines enjoyed as well – they're welcome any time."
Demonstrating effective coordination and communication during these exercises enhances interoperability and enables the combined force to respond efficiently to regional and global security challenges.