KRI Pulau Fani & KRI Pulau Fanildo Enroute to Indonesia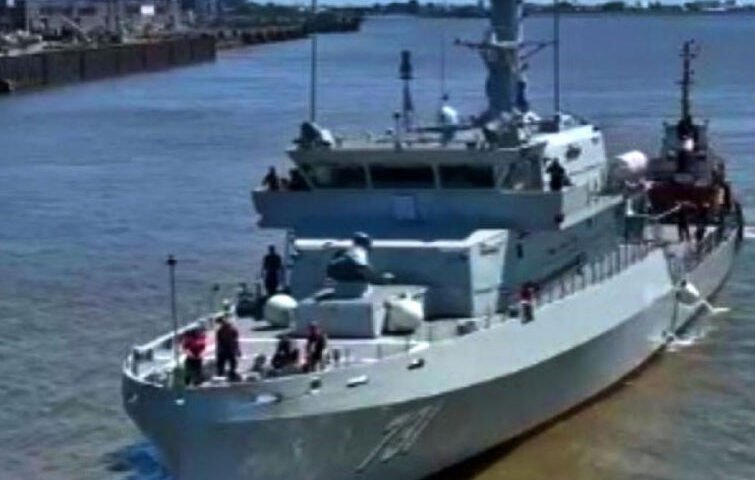 Two units of the Republic of Indonesia Warships built at the German Shipyard, namely KRI Pulau Fani-731 and KRI Pulau Fanildo-732 are currently in the middle of a voyage to the country, Saturday (24/06). Both sailed from Germany on a transporter ship on Friday, June 23.
Both KRIs were built at Abeking & Resmussen Shipyard, Lamwerder, Bremen, Germany. The Mine Counter Meassure Vessel (MCMV) type mine hunting ship named after the islands in Papua Province is capable of working both in shallow and deep seas. KRI Pulau Fani-731 and KRI Pulau Fanildo-732 have dimensions of 61.4 meters long and 11.1 meters wide. Both have some sophistication because they are equipped with modern mine warfare technology.
Both KRIs use non-magnetic steel materials and have a degaussing system, which is a system to reduce the magnetism of ships, and is equipped with an electric motor drive to reduce noise levels.
The warship is equipped with the latest sonar equipment capable of detecting and classifying underwater contacts, has ROV (Remotely Operated Vehicle) traps for mine identification and neutralization, AUV (Autonomous Underwater Vehicle) to help detect and classify underwater contacts. In addition, both are also equipped with USVs (Unmanned Surface Vessel), which are unmanned ships for hunting and sweeping mines.
It was conveyed by the Chief of Naval Staff (Kasal) Admiral Muhammad Ali in Germany that the purpose of the procurement of the two KRI could not be separated because there were still many sea mines left over from the second world war. "Both are tasked with keeping Indonesian waters safe, free from interference and threats of underwater weapons, especially mines. In addition, this sophisticated ship will also be operated to clean Indonesian waters that still have the potential danger of mines, "said TNI Admiral Muhammad Ali.