INS Kirpan Handed Over July 22nd in Cam Ranh Bay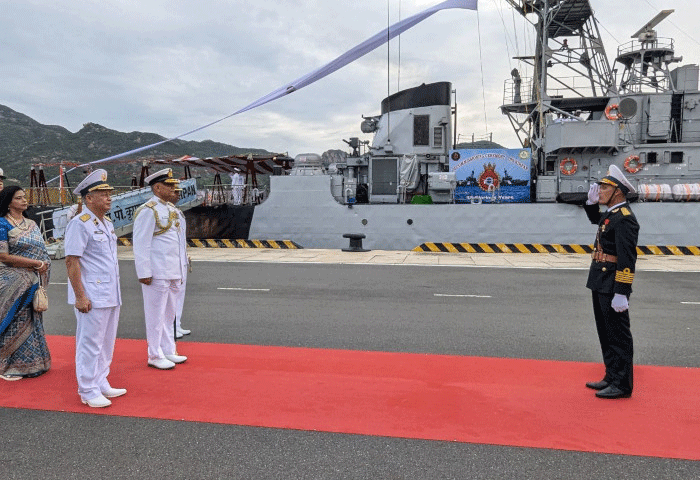 "Today's handing-over ceremony symbolizes the deep-rooted friendship and strategic partnership between India and Vietnam. What makes this occasion even more significant is the fact that this is the first-ever occasion that India is offering a fully-operational Corvette to any Friendly Foreign Country" – Adm R Hari Kumar, CNS
On completing 32 years of illustrious service to the nation, Indian Naval Ship Kirpan has been Decommissioned from the Indian Navy and Handed Over to Vietnam People's Navy (VPN) today at Cam Ranh, Vietnam. The Decommissioning and Handing Over Ceremony of INS Kirpan to VPN was presided over by Adm R Hari Kumar, Chief of Naval Staff, Indian Navy and Rear Adm Pham Manh Hung, Deputy Commander-in-Chief and Chief of Staff, VPN.
INS Kirpan, since commissioning in 1991, has been an integral part of the Indian Navy's Eastern Fleet and has participated in many operations over the last 32 years. Manned by about 12 officers and 100 sailors, the ship is 90 meters long and 10.45 meters in width with a maximum displacement of 1450 tons. The ship has been handed over today to Vietnam People's Navy with a complete weapon complement.
Speaking on the occasion Adm R Hari Kumar stated that "It is a matter of great honor for me to be a part of the handing over ceremony of one of the finest and longest-serving warships of the Indian Navy – Kirpan, to the esteemed Vietnam People's Navy. On behalf of the Indian Navy, it is my privilege to extend a warm welcome to all the distinguished guests present here. The transfer of Kirpan to the Vietnam People's Navy resonates with India's G20 vision of Vasudhaiva Kutumbakam – One Earth, One Family, One Future"
The transfer of INS Kirpan from the Indian Navy to the Vietnam People's Navy symbolizes the status of Indian Navy of being the 'Preferred Security partner' in the Indian Ocean Region and would definitely be a catalyst for enhancing the existing bilateral relations between the two navies.