HMS Lancaster Takes Part in Joint Persian Gulf Drug Bust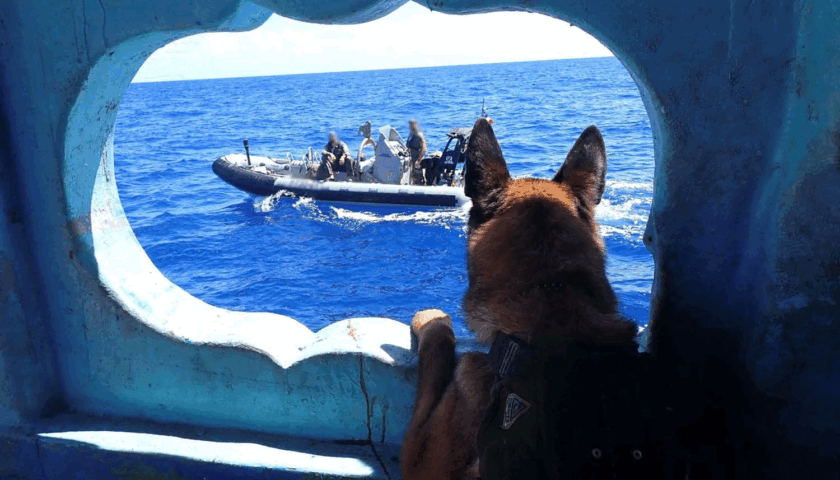 A Royal Navy-led task force has delivered a record-breaking haul of drugs in its six months tackling crime in the Indian Ocean.
Twenty-two tonnes of illegal narcotics have been seized by warships of the international Combined Task Force 150, the result of 14 successful 'busts' which have deprived criminal or terrorist gangs of at least £161m.
Hauls of hashish, heroin, methamphetamine and captagon (fenethylline) tablets have all ended up on the bottom of the Indian Ocean after interdictions by ships from the US and French Navies, US Coast Guard, and the Royal Navy's HMS Lancaster.
The ships are part of a wider international effort which has also involved vessels from Pakistan, India and Italy policing more than three million square miles of the Indian Ocean from the Gulf of Oman to Madagascar and the Mozambique Channel in the south.
Their actions have been directed from Bahrain by the task force staff, mostly Royal Navy, but supported by colleagues from the Italian and Royal New Zealand Navies, and the Royal Air Force.
Led by Captain James Byron, they formally handed over responsibility for the mission to the French Navy, six months and one day after taking the helm.
He said his team had observed a dramatic increase in more damaging and addictive drugs being trafficked in the region – around seven tonnes of the total haul has been heroin and methamphetamine.
And at least some of the success is down to specific 'surge operations' – bringing together as many ships, helicopters and aircraft as possible in a concentrated patch of ocean, allowing no room for the traffickers to escape.
"Putting good people next to bad people to stop them doing bad things has been our calling card," said Captain Byron who has now completed his sixth tour of duty in Bahrain; the Kingdom has been the hub of Royal Navy operations in the Middle East for decades.
"This has been without doubt the most fulfilling of my recent deployments to Bahrain, working alongside superbly talented and motivated individuals, my very own 'little pack of gundogs' have been determined to sniff out illegal narcotics and stop this vile trade."
"My favorite moment of the deployment has got to have been working with Norton, the narcotics sniffer dog – and as I go home to my family and my own spaniels, I do so knowing we have done a great job, with heads held high."
Although the ships and their boarding teams which are assigned to the task force have grabbed most of the publicity over the past six months, Captain Byron's staff are fully aware of the impact of their successful operations.
"I have had an incredible six months deployed in Bahrain," said Lieutenant Rachel Cox. "I have learned so much from the amazing team and working with our international partners has been an opportunity I'll never forget."
"A highlight for me was accompanying Captain Byron to the Seychelles and seeing first-hand the impact that our counter-narcotics operations have on their communities."
A small team – the battlewatch – provided 24/7/365 monitoring of events across the task force's domain from headquarters, among them battlewatch officer Lieutenant 'Mac' McKenna.
"I feel the opportunity so far has been really interesting and has opened the door to a new chapter in my naval career – working on the battlewatch floor has been remarkable and professionally rewarding" he said.
"I have made some great friends working alongside our international colleagues. It has been a real privilege to learn and share cultural and naval experiences from a wide range of International partners, including, our hosts from Bahrain, but also South Korea, Turkey, Brazil, Jordon, Egypt, USA, Italy and New Zealand, to name a few. I think it simply comes down to the basic fact we share a common outlook in life. We are all sailors."
Although command now passes to the French under Captain Yannick Bossu, the UK connection continues, with four Royal Navy personnel assigned to his staff.
"The CTF 150 baton may have passed over, but the hard work to counter terrorism and the scourge of drugs will continue in good hands," said Captain Byron.
"Everyone in the UK team wishes our counterparts the very best of luck for their six months 'at the wheel'."