DSTA Partners With Saab on Singapore Navy MRCV Program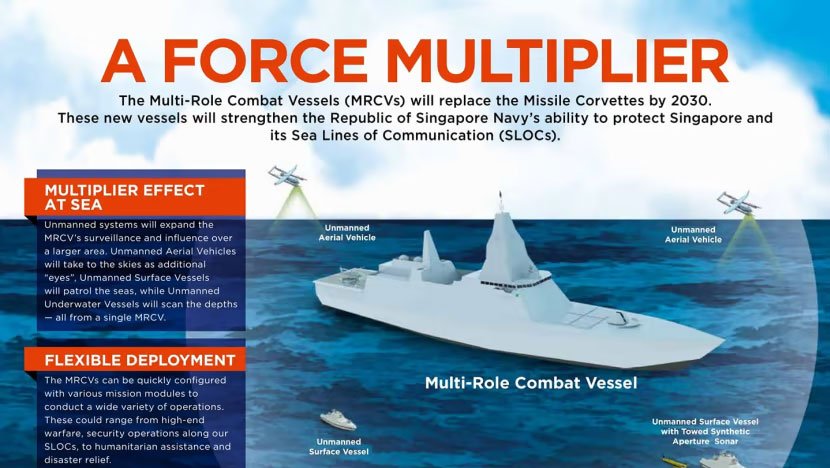 Singapore's Defense Science and Technology Agency (DSTA) and Sweden's Saab have signed a Memorandum of Understanding (MOU) on the sidelines of the Singapore Defense Technology Summit1 on 22 March 2023.
The partnership will see the two organizations jointly implement initiatives in the three domains of long-term supportability, people development and smart technologies. Under the MOU, DSTA and Saab will co-develop and design the Republic of Singapore Navy's new Multi-Role Combat Vessel (MRCV), harnessing technologies such as artificial intelligence (AI) and data analytics to realize the MRCV's concept as a highly digital ship.
Through this collaborative agreement, DSTA also aims to nurture local talent in surface ships design, naval and digital technology. Through work attachment and internships with Saab, DSTA engineers and scholars will get opportunities to deepen their technical competencies and better facilitate the build-up of in-country capabilities in the industry to undertake repair of composite structures for ships and radar overhaul in the future.
DSTA's Chief Executive, Mervyn Tan, said, "This marks the beginning of an exciting partnership with Saab. Besides setting the stage to jointly deliver an advanced, digitalized and data-driven Multi-Role Combat Vessel, the partnership will help accelerate the growth of knowledge not only in ship design but also in technologies of strategic significance such as AI and data analytics. To this end, it will lead to a more robust in-country talent pipeline of defense engineers and technologists with real-world experience."
Mats Wicksell, Senior Vice President and Head of Saab's Business Area Kockums, said, "This agreement is the result of many years of cooperation between Saab and DSTA and a recognition of our competitive edge in technology areas that are crucial for the future. We look forward to a deeper collaboration that will surely benefit both parties."