26th MEU's Small Boat Detachment Maneuvers Through the Littorals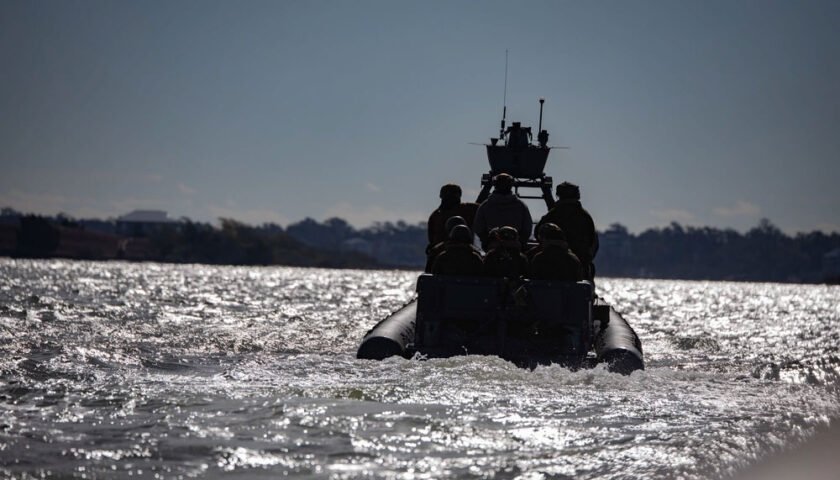 Submerged waist-deep in frigid, murky water, a raiding party makes their way to shore against a surging current, weighed down by their rifles and a combat load. The Marines wading in the muddy waters of Marine Corps Base Camp Lejeune, North Carolina, are with Charlie Company, Battalion Landing Team (BLT) 1/6, 26th Marine Expeditionary Unit (MEU), also known as "Cold Steel" and have just completed integrated training with rigid-hulled inflatable boats (RHIB).
The goal of the training was to enhance the 26th MEU's ability to navigate the littorals expeditiously. They also used this as an opportunity to prepare for an amphibious insertion during a simulated raid in support of a scenario during MEU Exercise (MEUEX) III, Mar. 5-7, 2023.
The littoral raid force provides the MEU Marine Air-Ground Task Force commander a high-speed, long-range, low-signature combatant crafts capable of inserting and extracting troops for a variety of missions. Through wargaming, experimentation and exercises, the Marine Corps is re-implementing littoral movements as an integration tool consisting of ship-to-shore and shore-to-shore movements aimed to improve efficiency as a landing team.
"In the event of being unable to carry out a mission because of threats in the air while underway, boats provide a quick and efficient means to counter that threat," said Cpl. Luke Valladares, a rifleman with 26th MEU.
The 11-meter-long rigid-hulled inflatable boat (RHIB) is an extreme weather high-speed craft capable of moving at speeds up to 50 knots, large enough to transport entire squads from ship to shore. This capability, matched with highly trained troops, results in a deadly force with the ability to successfully insert into contested littoral environments.
"The integration of infantry Marines and RHIBS for the 26th MEU provides a critical littoral mobility capability to transit from blue to green to brown waters in support of multiple mission sets," said Maj. Adam White, Company Commander, 26th MEU. "This will allow the 26th MEU the ability to insert forces, sensors, and supplies inside the littorals along with the capability to connect with pre-existing forces via a low signature platform."
Throughout the three-day course, the 26th MEU executed on-and-off drills, boat patrols, surveillance on water, patrolled and cleared islands, and practiced high-speed insertions and extractions on shore. RHIBs insertion training also allows Marines to conduct dynamic maneuvering, giving them the ability to defend forward capabilities afloat and ashore. With small boat detachments, landing forces conduct fire and maneuver more tactically and swiftly.
The 26th MEU continues to leverage all capabilities available to ensure the MAGTF is Ready, Relevant, and Capable of executing missions across the spectrum of conflict that they may be tasked with by Geographic Combatant Commanders during its upcoming deployment.