Connecticut Docks in Newly Upgraded Dry Dock 5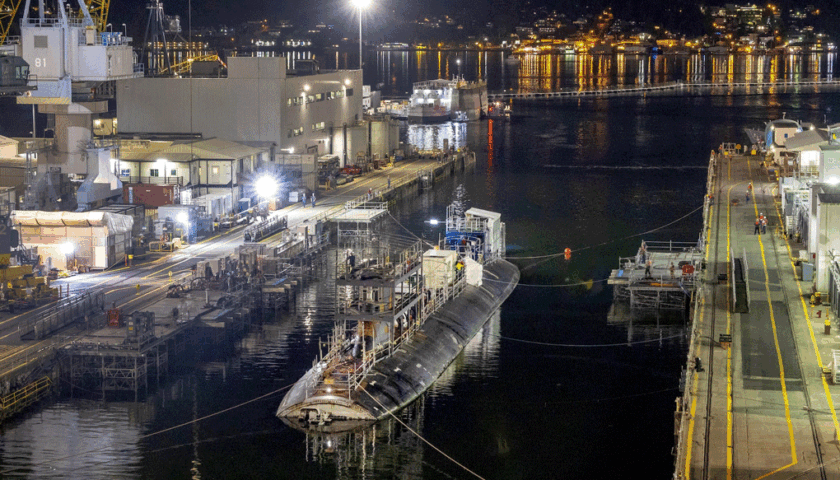 Interim seismic mitigation efforts, which began March 29 on Dry Dock 5, have been completed at Puget Sound Naval Shipyard & Intermediate Maintenance Facility in Bremerton. The dry dock has been tested and re-certified and USS Connecticut (SSN 22) was docked for its Extended Docking Selected Restricted Availability (EDSRA) July 12.
Mitigation work continues at the Trident Refit Facility Delta Pier in Bangor. Based on future planned improvements to Dry Dock 6, and differences in ship design and the size of aircraft carriers, it was determined immediate seismic mitigations are not required. Aircraft carrier maintenance at PSNS & IMF remains unaffected.
The need for mitigations in the remaining docks will be determined once current efforts are complete and may include stability enhancements for upcoming submarine availabilities.
"Watching this team of experts come together to make these upgrades has been remarkable," said Capt. JD Crinklaw, commander, PSNS & IMF. "The Navy's rapid response to this challenge has been a true testament to the dedication of our team and our commitment to the safety and readiness of our people and our fleet."
Construction efforts include drilling holes for the installation of anchors inside the dry dock walls to enhance structural integrity and ensure the safety of the workforce, community, environment, and submarines. The mitigation efforts updated existing emergency response plans to better address the chance of a catastrophic earthquake, along with improved early-warning employee notification systems in the dry docks.
Experts from private industry, Naval Sea Systems Command, Naval Facilities Engineering Systems Command and PSNS & IMF will continue to plan and implement the structural upgrades, with an eye on the Navy's future needs and in support of the PSNS & IMF mission to deliver modern, fully-mission capable warships on-time, every time, preserving our national security.
These short-term mitigation actions do not affect the nation's strategic deterrent capability or the ability of the fleet to continue its overall mission. PSNS & IMF remains the primary provider for the maintenance, repair, modernization, inactivation and disposal of ships, submarines, and nuclear-powered aircraft carriers in the Pacific Fleet.