Colombia and Jamaica Perform Combined Exercises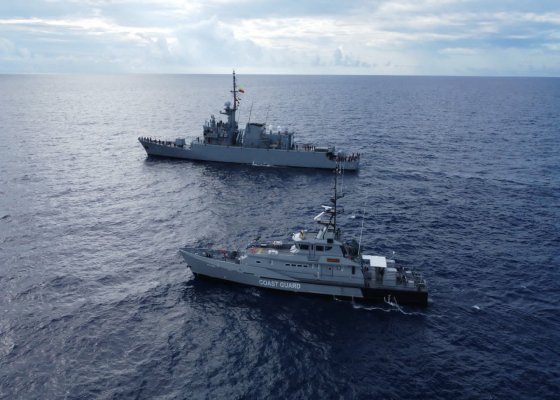 Within the framework of the 50 years of international naval cooperation agreements between Colombia and Jamaica, units of the Colombian Navy and the National Navy of that country developed training exercises in the waters of the Colombian Caribbean.
During the exercise, tactical and communications maneuvers, emergency support at sea, formations and devices at sea were carried out, among others, testing the capabilities of the ARC "Almirante Padilla" Missile Frigate and the Jamaican Coast Guard ship HMJS Alexander Bustamante.
These actions, based on the procedures and doctrine of international exercises established by NATO, such as those carried out in the UNITAS operation, seek to strengthen interoperability for the development of the different constitutional missions of both countries, allowing crew members from Colombia and Jamaica to exchange of experiences to increase the confidence and level of training in security tasks, assistance and control at sea, of your men.
It should be noted that the different exchanges between the Colombian Navy and the Navies of other countries contribute to the collective construction of timely and adequate responses to the great global challenges in security and defense.
"Due to the geostrategic position of the islands of the Archipelago Department and of the Units under the operational command of the Specific Command of San Andrés and Providencia; This type of naval exercises will be maintained over time to maintain the highest level of training, in order to be a deterrent against transnational crimes that occur in the northern Caribbean," said Captain Octavio Gutiérrez Herrera Commander of the Command Specific to San Andrés and Providencia.
The Colombian Navy, through the Caribbean Naval Force and the San Andrés y Providencia Specific Command, will continue to carry out combined naval exercises and training, through which it makes visible and complements its capabilities to safeguard and defend maritime interests, counter threats and face common challenges for the protection of the nation.