Iranian Ships Depart Indonesia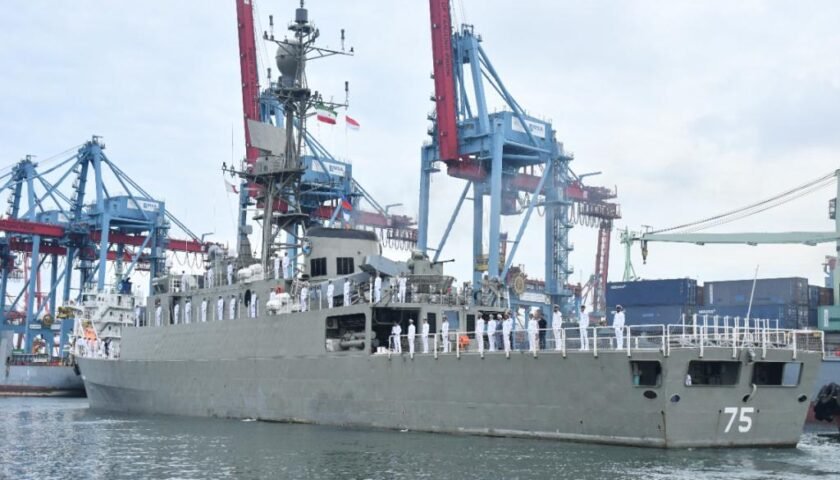 Asintel Danlantamal III Marine Colonel (F) Ari Aryono, SE representing the Commander of Lantamal III Jakarta Brigadier General (Mar) Umar Farouq, SAP, CHRMP., M.Tr.Opsla., M.Han., released the Iranian Navy Foreign Warship IRIS Dena returned to sailing by leaving the JICT II Tanjung Priok pier, North Jakarta after anchoring for six days in Jakarta, last Thursday (10/11/2022).
The ship, which has been anchored in Jakarta since (05/11) will return to its home country with a release ceremony accompanied by music from Satsik Lantamal III Jakarta assisted by Merplug from Disyahal Lantamal III personnel and the escort team for Satrol Lantamal III.
While while docking in Jakarta, the crew of the Iranian Navy warship IRIS Dena, commanded by Junior Captain Omid Moghani, have carried out various honorary visits, friendly activities and tours, including honorary visits to the Iranian Embassy, ​​Commander of the Indonesian Armed Forces, and Commander of the Armed Forces.
"As part of the Indonesian Navy's international communication and diplomacy, especially Lantamal III, I would like to thank all relevant parties who have helped smooth the visit of the Islamic Republic of Iran Navy Foreign Warships to Indonesia," concluded Asintel.
"This visit is very important to improve bilateral relations between the two countries, especially the Navy of the Islamic Republic of Iran and the Indonesian Navy in various fields in the future," he added.