HDMS Peter Willemoes Practices Loading SM-2 During BALTOPS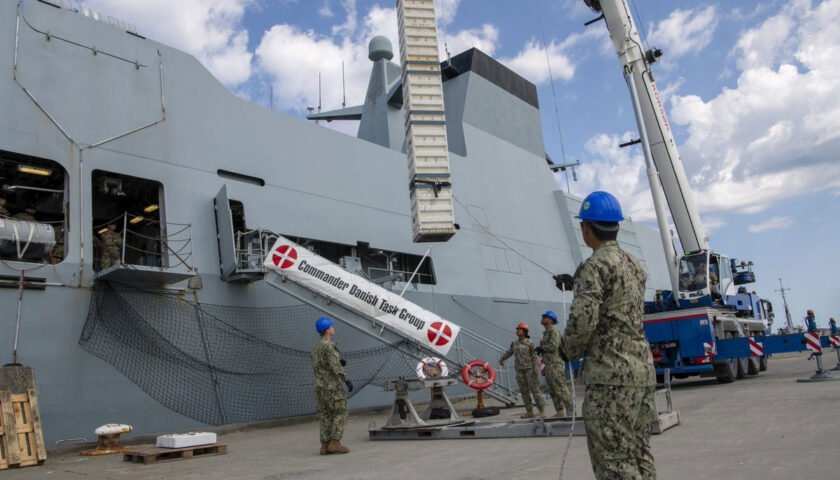 In a notable first for the Baltic Operations (BALTOPS) exercise started in 1972, the Royal Danish Navy hosted the U.S. Navy Cargo Handling Battalion 1 from Williamsburg, Virginia, to conduct an on load of an inert SM-2 anti-aircraft missile aboard the Royal Danish Navy Iver Huitfeldt-class frigate HDMS Peter Willemoes (F362), June 10, 2023.
U.S. Navy and Royal Danish Navy teams in Bornholm used a mobile crane to transfer the inert missile to the launcher of Peter Willemoes (F362) while pier-side in Rønne, Denmark to validate and strengthen the operational and logistical capacity of the NATO Alliance.
"Seamless cooperation is essential if NATO is to operate professionally and under time pressure," said Deputy Commander of the Danish Navy Command Flotilla Admiral Carsten Fjord-Larsen. "Therefore, it is extremely important that we train, especially the logistical parts. We train to ensure that we can work safely and rapidly at all times and solve the tasks we are given and to show that we have the ability and the will to be ready. We train continuously – both on Bornholm and other relevant places in Denmark, because what we train, we become good at."
Once in the Royal Danish Navy's arsenal in the coming years, the SM-2 missile will extend the Danish air denial protection radius. Combined with Danish frigate's advanced radar system, the missile greatly increases Denmark's maritime air defense capabilities, and exponentially increases NATO's defense capability in the Baltic Sea.
"Interoperability across logistics and supply chains is critical to an effective naval force and the NATO Alliance," said Naval Striking and Support Forces NATO (STRIKFORNATO) chief of staff, Rear Adm. Michael Wosje embarked on the Blue Ridge-class command ship USS Mount Whitney (LCC 20). "Our work alongside the Danish Navy is one of many valuable ways exercise participants have reinforced the NATO alliance deterrence and defense capability during BALTOPS 23."
The loading of an inert missile aboard the Danish frigate, follows the successful test launch of an SM-2 missile by the Royal Danish Navy frigate HDMS Niels Juel during the U.S. Sixth Fleet and STRIKFORNATO exercise Formidable Shield 2023 executed in May.
U.S. Sixth Fleet (SIXTHFLT) and STRIKFORNATO-led BALTOPS 23 is the premier annual maritime-focused exercise uniting 19 NATO Allies and one NATO to provide complex training designed to strengthen the combined response capability critical to preserving the freedom of navigation and security in the Baltic Sea. U.S. European Command and U.S. Naval Forces Europe-Africa (NAVEUR-NAVAF) have promoted the traditional U.S.-led or bi-lateral exercises as opportunities for NATO to improve interoperability as a collective force, using NATO command and control systems as a foundation for the exercise design.
For over 80 years, NAVEUR-NAVAF forged strategic relationships with our Allies and Partners, leveraging a foundation of shared values to preserve security and stability.
Headquartered in Naples, Italy, NAVEUR-NAVAF operates U.S. naval forces in the U.S. European Command (USEUCOM) and U.S. Africa Command (USAFRICOM) areas of responsibility. SIXTHFLT is permanently assigned to NAVEUR-NAVAF and employs maritime forces through the full spectrum of joint and naval operations.
STRIKFORNATO, headquartered at Oeiras, Portugal, is a rapidly deployable and scalable headquarters, under the operational command of SACEUR, capable of planning and executing full spectrum joint maritime operations including maritime ballistic missile defense, primarily through integration of U.S. and other nation's carrier and amphibious forces into NATO operations to provide assurance, deterrence, and collective defense for the Alliance.