VR-64 Supports Carrier Air Wing 9 & Exercise Northern Edge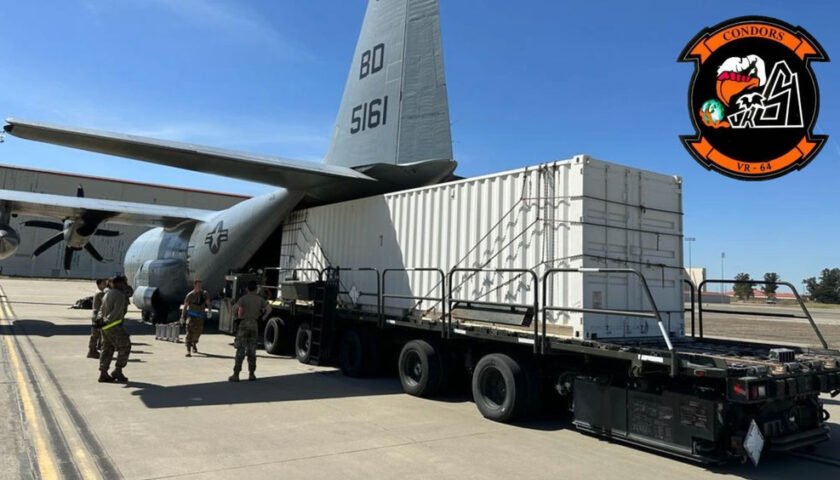 The "Condors" of Fleet Logistics Support Squadron (VR) 64 provided critical support of Exercise Northern Edge by providing the transport of two Mobile SCIFs to Carrier Air Wing (CVW) 9, 27-30 April.
United States Transportation Command had initially scheduled the lift to be completed by a C-5 Galaxy squadron, but the squadron was called away for a priority mission and unable to fill the requirement.
Without the lift, CVW-9 would not have been able to fully participate in Northern Edge, a U.S. Indo-Pacific Command sponsored and Headquarters Pacific Air Forces led, U.S. joint field training exercise in and around Alaska. Thousands of participants from all U.S. Air Force, U.S. Navy, U.S. Marine Corps and U.S. Army, to include Reserve and National Guard units, are involved.
The exercise is designed to provide high-end, realistic war fighter training, develop and improve joint interoperability, and enhance combat readiness of participating forces.
The Navy Reserve's Navy Air Logistics Office (NALO) was able to coordinate with Fleet Logistics Support Wing (FLSW) to have K/C-130T Hercules squadron VR-64 fill the gap, augmented by a Selected Reserve (SELRES) pilot from the "Capital Express" of VR-53 ensuring CVW-9 would be able to participate in the exercise as planned.
"NALO reached out and tasked VR-64 to complete the mission, and my team stepped up and made it happen," said VR-64 Executive Officer Cmdr. Peter Kennedy, who served as one of the transport aircraft commanders (TACs) for the lift. "The lift was on a "T-5," meaning it took up five pallet positions, and was the largest single piece of cargo I have ever flown since joining the VR C-130T community in 2015. The loadmasters performed expert coordination working with the lift requester, NALO, and the Travis Air Force Base (AFB) cargo team to ensure the dimensions and weight were within the C-130T's limits to safely transport."
The squadron transported the two SCIFs from Travis AFB in California to Elmendorf AFB in Alaska.
VR-64 Commanding Officer Ian Flint explained that in addition to the quick response to the time-sensitive mission, the lift had been complicated by maintenance issues and that the team had handled it exceptionally well.
"Rapid-response, creative planning by both the operations and maintenance teams, coupled with the flexibility and hard work of our aircrews, allowed VR-64 to complete this lift on time even with unforeseen aircraft maintenance issues," said Flint. "Aircraft issues are always an obstacle when flying an aging platform, but it is the exceptionalism of the people who work on and fly 'Garden State Hercs' that allows us to be a highly effective asset to the Fleet."
Flint said this mission was an illustration of the caliber of his team.
"I am incredibly proud of the entire VR-64 Condor team for their conduct and execution of this last-minute, high-priority lift," said Flint. "Their professionalism and commitment to mission completion were on display, and they did not disappoint."
NALO and FLSW remain the Navy's only source of dedicated air logistics, providing critical support around the globe with the K/C-130T Hercules and C-40A Clipper.
CNAFR mans, trains and equips the Naval Air Force Reserve in order to provide enduring operational support and strategic depth to Navy forces that win in combat.