USS Vermont Arrives at New Homeport Pearl Harbor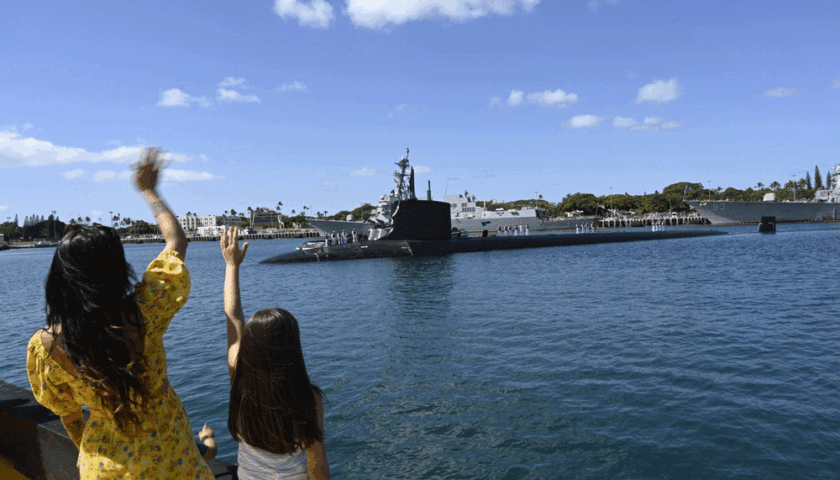 The Virginia-class fast-attack submarine USS Vermont (SSN 792) and its crew of approximately 130 Sailors arrived at its new homeport at Joint Base Pearl Harbor-Hickam, July 27, 2023.
Vermont, the first Block IV Virginia-class submarine to enter service, is a new construction submarine that is joining the six Virginia-class submarines already assigned to Commander, Submarine Squadron (CSS) 1. More than half of the U.S. Navy's submarine force is based in the Indo-Pacific region due to the area's strategic importance.
"We are excited to add a seventh Virginia-class submarine to our 'Squadron Wolfpack,' and for Vermont's crew and families to join the Pearl Harbor Ohana," said Capt. Aaron Peterson, commodore of CSS-1. "Vermont will be the newest submarine in the Pacific and certainly enhances our warfighting posture and ability to promote a free and open Indo-Pacific region."
Vermont was commissioned administratively April 18, 2020, in Groton, Connecticut, and conducted its post-shakedown availability until the transit to Pearl Harbor. The submarine operated in the U.S. 4th Fleet area of operations that same year, where it conducted anti-submarine warfare exercises with a Brazilian Navy submarine and maritime patrol and reconnaissance aircraft.
Vermont is the third U.S. Navy ship to be named after the Green Mountain State. The first was one of nine 74-gun warships authorized by Congress in 1816. The second, Battleship No. 20, was commissioned in 1907 and first deployed in December of that year as part of the "Great White Fleet."
Vermont is assigned to U.S. 3rd Fleet. An integral part of U.S. Pacific Fleet, U.S. 3rd Fleet leads naval forces in the Indo-Pacific and provides the realistic, relevant training necessary to execute the Navy's role across the full spectrum of military operations—from combat operations to humanitarian assistance and disaster relief. U.S. 3rd Fleet works together with allies and partners to advance freedom of navigation, the rule of law, and other principles that underpin security in the Indo-Pacific.