USS Hershel "Woody" Williams Completes Refit in Malta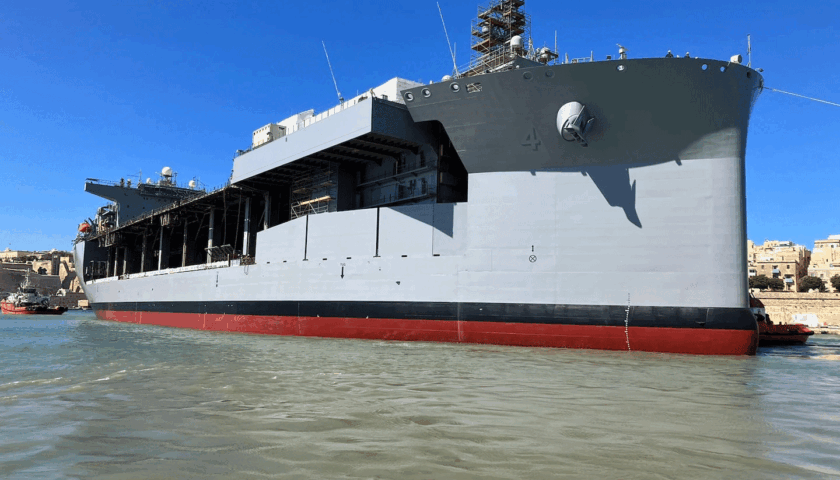 Lewis B. Puller-class expeditionary sea base USS Hershel "Woody" Williams (ESB 4) completed its first Regular Overhaul (ROH) in the European area of operations at Palumbo Shipyard Malta, July 25, 2023.
ROHs are routine, planned maintenance periods providing necessary repairs, maintenance and modernization for the ship to operate at full technical capacity and mission capability for its entire designed service life.
Conducting significant depot-level maintenance in a forward-deployed environment requires robust partnerships with the host nation and maintenance providers. The technical expertise and large maintenance workforce on Malta provided a central location with significant capability including docking the 71,000-ton ship.
"Even though it was our first ROH in the European theater, our project team together with our industry partner deftly executed maintenance on critical areas of Hershel Woody Williams," said Capt. Brian Karosich, Forward Deployed Regional Maintenance Center (FDRMC) commanding officer. "With the ship continually deployed, keeping areas such as its expansive flight deck and mission deck safe and fully functional is paramount to its diverse operations throughout Africa."
Hershel "Woody" Williams is forward-deployed to Souda Bay, Greece and serves as the first U.S. Navy ship assigned to the U.S. Africa Command (AFRICOM) area of responsibility. The ship is capable of conducting expeditionary missions, counter piracy, maritime security, and humanitarian and disaster relief operations. Hershel "Woody" Williams' unique capabilities are part of the critical access infrastructure that supports the deployment of forces and supplies to support global missions. The ship operates with blue and gold crews, allowing it to remain continually deployed throughout AFRICOM.
Although a Military Sealift Command (MSC) ship, FDRMC maintains U.S. Navy structures and systems aboard Hershel "Woody" Williams. During the ROH, FDRMC's project team oversaw work to replace coatings on the 52,000 square-foot flight deck and 25,000 square-foot mission deck. The team also preserved other critical areas of the ship, such as the mast and forward deckhouse.
MSC oversaw additional significant maintenance and modernization that ensured the ship met American Bureau of Shipping standards and remained safe to operate for the hybrid crew of military personnel and MSC civil service mariners. Work completed included cleaning and preserving the ship's hull and overhaul of critical equipment such as the diesel engine, water distilling plant and air conditioning units.
FDRMC provides emergent, intermediate and depot-level maintenance and modernization for transient and Forward Deployed Naval Forces in U.S. Fifth and Sixth Fleets through fleet technical assistance, voyage repair, contract management oversight, assessments, and diving and salvage.
MSC operates approximately 125 naval auxiliary civilian-crewed ships, replenishes U.S. Navy ships, strategically prepositions combat cargo at sea and moves military cargo and supplies used by deployed U.S. forces and coalition partners around the world.
For over 80 years, U.S. Naval Forces Europe-U.S. Naval Forces Africa (NAVEUR-NAVAF) has forged strategic relationships with our Allies and Partners, leveraging a foundation of shared values to preserve security and stability.
Headquartered in Naples, Italy, NAVEUR-NAVAF operates U.S. naval forces in the U.S. European Command (USEUCOM) and USAFRICOM areas of responsibility. U.S. Sixth Fleet is permanently assigned to NAVEUR-NAVAF, and employs maritime forces through the full spectrum of joint and naval operations.