USS Roosevelt Arrives in Riga, Latvia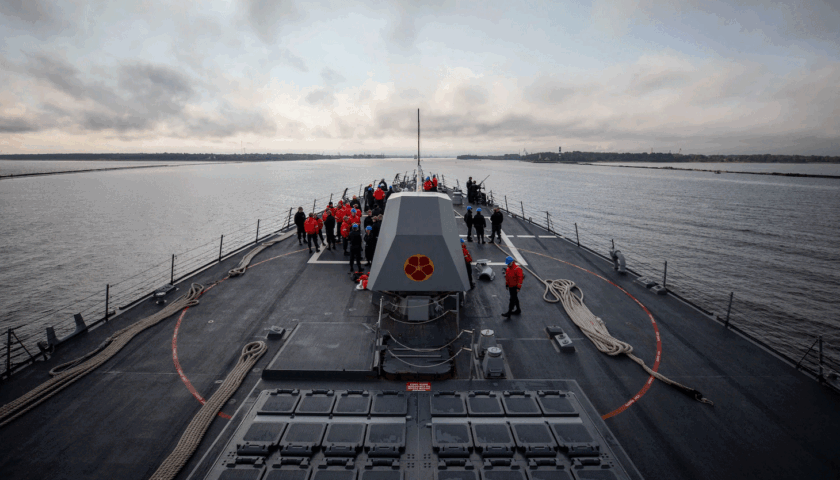 USS Roosevelt (DDG 80) arrived in Riga, Latvia, for a scheduled port visit, Aug. 6, 2023. Roosevelt, forward-deployed to Naval Station Rota, Spain, is on her fifth Forward Deployed Naval Forces-Europe (FDNF-E) patrol.
While in port Riga, the ship is replenishing stores and fuels and hosting distinguished visitors, demonstrating the strength of the U.S.-Latvian partnership. In addition, the crew is enjoying the opportunity to experience Riga's rich cultural heritage.
"Over our last several patrols, Roosevelt has visited nearly every one of our NATO allies in the Baltic, but we have yet to see Latvia," said Lt.j.g. Maryrose Stone. "This is a huge win for the crew, and we're so excited for the opportunity to experience the Latvian culture ashore as we've worked with the Latvian Navy at sea in the past."
While in Riga, Roosevelt expects to host high-ranking officials with the Government of Latvia and the United States Ambassador to Latvia for a luncheon.
Roosevelt has operated in the Baltic Sea since early July, and has participated in numerous allied exercises during that time, to include Neptune Strike 23-2, Standing NATO Maritime Group One (SNMG-1) operations, and a Naval Surface Fire Support live fire exercise off the coast of Latvia.
"Latvia hosted Roosevelt several weeks ago for a live fire gunnery exercise, where we shot our 5-inch gun onto the Latvian range while in [their] territorial waters. This proved yet another critical capability between two NATO partners, while strengthening our alliance," said Cmdr. Jeffrey Chewning, Roosevelt's commanding officer. "Roosevelt has been on patrol for two months, with the majority of our time operating in the Baltic Sea. Without the support of our allies in the Baltic, we would not be as effective or successful in conducing maritime operations that provide security to the region."
Roosevelt, forward-deployed to Rota, Spain, began its fifth Forward Deployed Naval Forces-Europe (FDNF-E) patrol June 27 in the U.S. Naval Forces Europe area of operations, employed by U.S. Sixth Fleet to defend U.S., allied and partner interests.
Headquartered in Naples, Italy, NAVEUR-NAVAF operates U.S. naval forces in the U.S. European Command (USEUCOM) and U.S. Africa Command (USAFRICOM) areas of responsibility. U.S. Sixth Fleet is permanently assigned to NAVEUR-NAVAF, and employs maritime forces through the full spectrum of joint and naval operations.