USS Normandy MDVR Keeps Ship Mission-Ready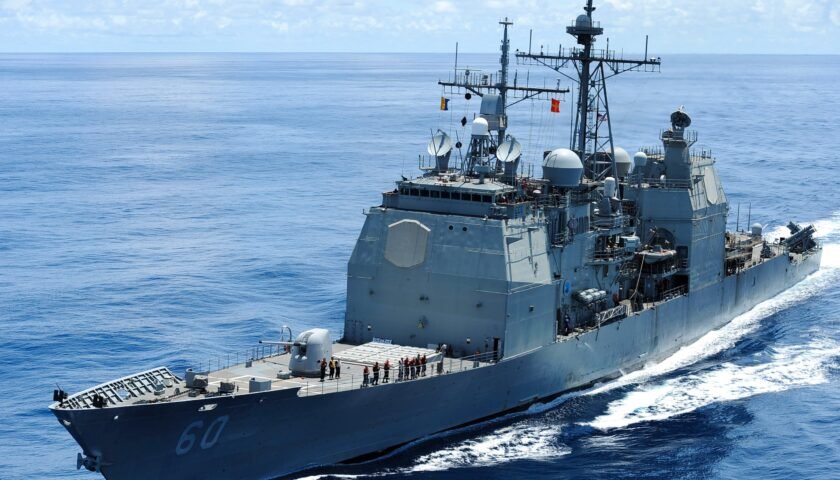 Forward Deployed Regional Maintenance Center (FDRMC) completed a successful mid-deployment voyage repair (MDVR) aboard USS Normandy (CG 60) Aug. 3, 2023. MDVRs are planned in-port maintenance periods that allow deployed U.S. ships to complete corrective and preventative maintenance that cannot be accomplished at sea.
Normandy's MVDR required skill and expertise from FDRMC Naples and Bahrain team members, who executed contract management oversight, engineering support, quality assurance and diving support with industry partner Viktor Lenac providing contracted services. During MDVRs, safety and mission-essential equipment and areas are maintained and repaired, if needed.
FDRMC's unique ability to flex personnel throughout Sixth Fleet's area of operation provide ships comprehensive maintenance capability while on deployment. FDRMC divers, located in Bahrain, provided diving support to install a cofferdam during the availability, allowing maintainers to replace needed parts safely.
"Nothing is more satisfying then supporting a ship mid-deployment knowing we are directly impacting the ship's readiness," said Melissa Gooch, FDRMC Project Manager. "MDVRs are high-tempo, compressed maintenance periods that allow us to maintain and restore capability so the ship can continue executing its critical mission."
Important work executed to maintain the air conditioning, water distillation system and other areas will ensure Normandy can continue to operate uninhibited throughout the remainder of deployment with the Gerald R. Ford Carrier Strike Group.
The last U.S. Navy ship to execute an MDVR in Croatia was San Antonio-class amphibious transport dock ship USS Arlington (LPD 24) in July 2022. The ability to execute critical maintenance in allied and partner countries such as Croatia provides a significant benefit to U.S. Navy ships and FDRMC's maintenance mission.
CSG-12, Gerald R. Ford CSG, is on a scheduled deployment in the U.S. Naval Forces Europe-Africa area of operations, employed by U.S. Sixth Fleet to defend U.S., allied and partner interests.
Normandy is a part of the Gerald R. Ford Carrier Strike Group (GRFCSG). The GRFCSG is comprised of Gerald R. Ford (CVN 78), Carrier Air Wing (CVW) 8, Destroyer Squadron (DESRON) 2, the Information Warfare Commander, and the Ticonderoga-class cruiser USS Normandy (CG 60).
FDRMC provides emergent, intermediate and depot-level maintenance and modernization for transient and Forward Deployed Naval Forces in U.S. Fifth and Sixth Fleets through fleet technical assistance, voyage repair, contract management oversight, assessments, and diving and salvage.
For over 80 years, U.S. Naval Forces Europe-U.S. Naval Forces Africa (NAVEUR-NAVAF) has forged strategic relationships with our Allies and Partners, leveraging a foundation of shared values to preserve security and stability.
Headquartered in Naples, Italy, NAVEUR-NAVAF operates U.S. naval forces in the U.S. European Command (USEUCOM) and USAFRICOM areas of responsibility. U.S. Sixth Fleet is permanently assigned to NAVEUR-NAVAF, and employs maritime forces through the full spectrum of joint and naval operations.