Coast Guard Barque Eagle returns to New London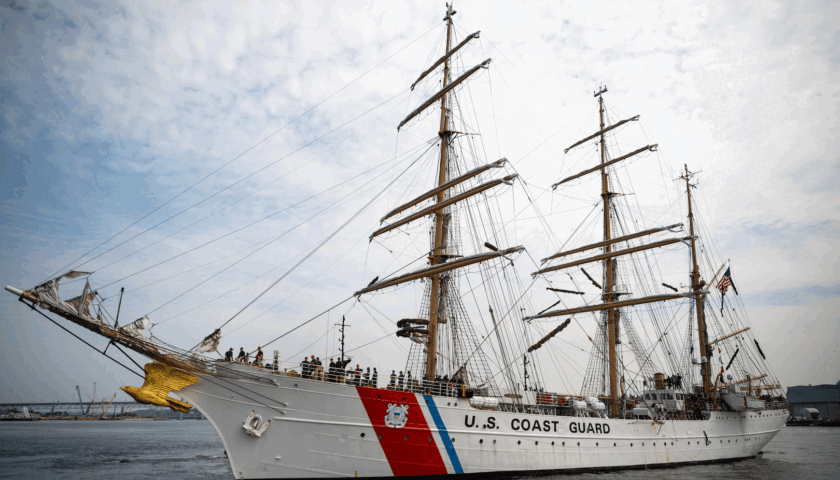 The crew of the Coast Guard Barque Eagle (WIX 327) returned to the ship's homeport in New London, Thursday, following a four-month deployment.
This year, crew, cadets, and officer candidates sailed over 16,800 nautical miles, traveling to the Azores, Netherlands, Norway, Denmark, Finland, and Sweden as part of their annual training cruise, after departing New London, April 8, 2023.
In addition to their primary mission of training, Eagle serves as a diplomatic tool and global ambassador, embarking over 37,000 visitors during the deployment. Eagle helped advance U.S. interests by reinforcing key Arctic partnerships while on deployment to the Baltic and North Sea.
Eagle welcomed the North Atlantic Treaty Organization's newest member state, Finland, with a port call in Helsinki alongside the Finnish offshore patrol vessel Turva. Eagle also hosted U.S. Secretary of State Antony Blinken and numerous other dignitaries and distinguished guests.
One historic highlight came this summer when Eagle sailed alongside Danmark, a full-rigged Danish sail training vessel, whose captain placed their ship at the disposal of the United States during World War II after Denmark was invaded by Germany. For the remainder of the war, Danmark was leased to the U.S. Coast Guard and trained future officers — just as Eagle does now.
"Once again the crew of Eagle trained hundreds of cadets and officer candidates with resounding success," said Capt. Jessica Rozzi-Ochs, Eagle's commanding officer. "But this deployment also served to demonstrate to those future officers that, in addition to our statutory missions, the Coast Guard has an important role protecting and advancing U.S. interests around the world with our allies and partners."
Eagle is the only active square-rigged vessel in U.S. government service. Constructed in 1936 by the Blohm and Voss Shipyard in Hamburg, Germany, and originally commissioned by the German navy, Eagle was taken as a war reparation by the United States following World War II. Eagle's transit route home from Europe this year closely mirrored the ship's first post-war journey as a commissioned Coast Guard cutter, when the ship traveled from Europe with stops in Madeira, Bermuda, and New York City.
Eagle, a 295-foot square-rigged vessel known as "America's Tall Ship", has served as a classroom at sea to future Coast Guard officers since 1946, offering a unique leadership and professional development experience to cadets and officer candidates.
"I am extremely proud of the crew of Eagle," Rozzi-Ochs said. "The dedication and commitment of the ship and its crew during this deployment, shows the high level of training and professionalism that embody our Coast Guard core values. I have no doubt that the future Coast Guard officers that have trained aboard the decks of Eagle, are well prepared for whatever challenges the future brings to our Nation."