USNS Navajo (T-ATS 6) Christened at Bollinger Shipyards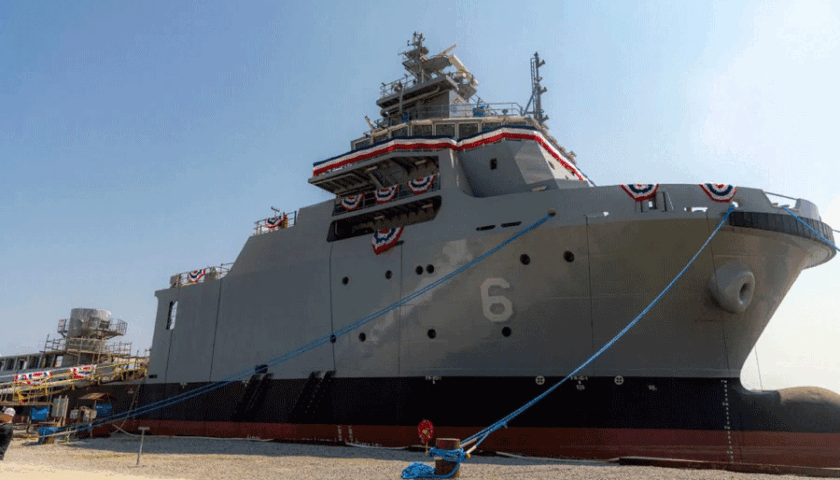 On August 26th, representatives from Bollinger Shipyards LLC ("Bollinger") joined senior U.S. Navy officials pier side at Bollinger Houma to christen the USNS Navajo (T-ATS 6), the lead ship of the Navy's new Navajo-class of towing, salvage and rescue (T-ATS) ships. The Honorable Arlando Teller, Assistant Secretary for Tribal Affairs, U.S. Department of Transportation, was the keynote speaker and joined ship sponsor Jocelyn Billy as she broke a ceremonial bottle of sparkling wine across the bow of the USNS Navajo.
"This isn't just any ship; it's the first of its kind. This is a Bollinger-built Navajo-class Towing, Salvage, and Rescue Ship manufactured to the highest level of craftsmanship and quality," said Ben Bordelon, President and CEO of Bollinger Shipyards. "Every weld, every beam, every system on this ship was crafted with the thought of the warriors that inspired its name. It is an honor beyond words for Bollinger to partner with the Navy. The trust bestowed upon us to construct a new class of vessel is both a responsibility and a privilege that we hold dear."
The new Navajo class of U.S. Navy towing, salvage and rescue ships is named in recognition of the tribe and the Diné people, and their many contributions to the U.S. military and the country's defense. While most Americans are familiar with the famed Navajo Code Talkers, the Diné people have answered our Nation's call and served our armed forces with honor and valor in nearly every major conflict since the birth of our nation.
"This ceremony signifies more than the unveiling of a new class of towing, salvage and rescue vessels. It is an homage to the Navajo people's rich military legacy," said Mr. Justin Ahasteen, Executive Director of the Navajo Nation's Washington Office. "Navajo warriors throughout history have tirelessly shielded our nation. From the legendary Navajo Code Talkers of World War II to the brave Navajo men and women serving today, our nation embodies the spirit of warrior protectors and defenders."
The Navajo class provides ocean-going tug, salvage, and rescue capabilities to support fleet operations. T-ATS replaces and fulfills the capabilities that were previously provided by the Powhatan-class Fleet Ocean Tug (T-ATF 166) and Safeguard-class Rescue and Salvage Ships (T-ARS 50) class ships.
"The T-ATS 6 combines 2 classes of ships for your nation and your Navy," said Rear Admiral Jeffrey Spivey, Deputy Commander, Military Sealift Command. "It combines those into one class that is more capable than any ship we have out there in this salvage class."
"This class of ship is critical to ensure our sailors and mariners receive critical, timely support and stay forward around the globe defending our interests," said Vice Admiral Craig Clapperton, Commander, Fleet, Cyber Command and Commander, Tenth Fleet. "And they will sail wherever international law allows and operate right to the edge of controversy to ensure a free global common for all. These multipurpose ships also stand ready to respond quickly in the event a disaster strikes, providing critical humanitarian assistance, firefighting support and spill response. A special capability that few can provide."
Laid down in October 2019 and launched in May 2023, the USNS Navajo is the first of nine planned Navajo-class T-ATS. In addition to the USNS Navajo (T-ATS 6), Bollinger is also constructing USNS Cherokee Nation (T-ATS 7) and USNS Saginaw Ojibwe Anishinabek (T-ATS 8), and is under contract for USNS Lenni Lenape (T-ATS 9) and USNS Muscogee Creek Nation (T-ATS 10).
The Navajo-class is a new series of towing, salvage and rescue ships (T-ATS) being constructed for the U.S. Navy. The Navajo-class is a multi-mission common hull platform that will be deployed to support a range of missions such as towing, rescue, salvage, humanitarian assistance, oil spill response and wide-area search and surveillance operations. The vessels will replace the existing Powhatan-class T-ATF fleet ocean tugs and Safeguard-class T-ARS rescue and salvage ships operated by Military Sealift Command.