UAE Navy Delegates Tour Indian Navy Facilities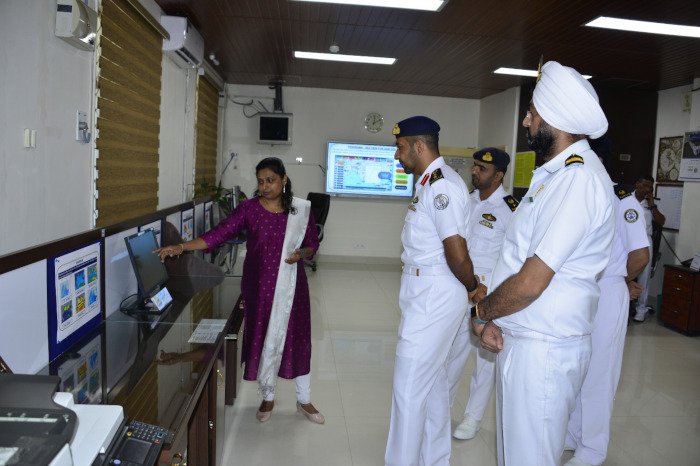 A three member UAE Navy Subject Matter Expert Delegation led by Colonel Dr Ali Saif Ali Mehrazi arrived India on 27 Aug 2023 for four day visit to specialized Meteorology, Oceanography and Weather Modelling units of Indian Navy (IN) at Kochi, Goa and New Delhi. This visit signifies beginning of a new chapter in professional cooperation between the two Navies, with the goal of exchanging professional knowledge, expertise, training and collaboration in the fields of Meteorology, Oceanography and Weather/ Ocean modelling.
The IN over the years has accrued knowledge, expertise and skills in the domain of Meteorology and Oceanography. IN, through its dedicated units has also been supporting many countries in the Indian Ocean Region (IOR) with training in the fields as well as daily Weather forecasts services to ensure maritime safety in the region.
The UAE Navy delegation visited Kochi on 28 Aug 2023, where they met senior officers of IN for professional interaction at Naval Operations Data Processing and Analysis Centre (NODPAC), which is a dedicated unit for aspects of Oceanography, Ocean State Forecast and Ocean Modelling. They also visited Indian Naval Meteorological Analysis Centre (INMAC) which looks into the aspects of Weather Forecasts and Atmosphere Modelling. The UAE Navy Delegation also visited the School of Naval Oceanology and Meteorology (SNOM), which caters to the Meteorological, Oceanographic and Numerical Weather Prediction (NWP) training needs of IN.
The delegation would also be visiting Air Squadrons and Met Office at INS Hansa, Goa which is the premier Naval Air Station of IN followed by meeting with Commodore (Naval Oceanology and Meteorology) at IHQ MoD (Navy).
The aim of this collaboration is to foster mutual learning and strengthen collective ability to address complex issues related to Meteorology and Oceanography. Both the navies would share their expertise and insights to work out areas for further cooperation.
The expertise, enthusiasm, and commitment of UAE Navy and IN will undoubtedly enrich operational and scientific capabilities of both the navies and will go a long way in furthering professional exchanges to fulfil mutual interests.