Indonesia & Singapore Complete Exercise Eagle Indopura 2023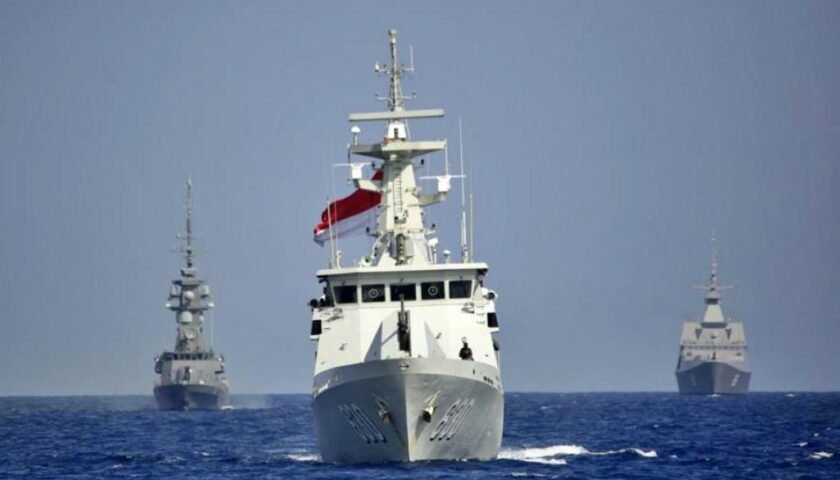 In the midst of the Eagle Indopura 2023 Joint Exercise (Latma), KRI Sultan Iskandar Muda-367 together with KRI Halasan-630, as well as Singaporean warships, namely RSS Vigour-92 and RSS Interpid-69, carried out Surface Target Shooting (Gunex) Surface Hazard Combat Role to confront enemy surface ships, which allegedly thwarted the course of the joint exercise. The Killer Tomato, simulated as an enemy ship, was used as a shooting target with a distance of 3 miles, located in Natuna waters. Monday (28/07).
One by one starting from KRI Sultan Iskandar Muda, RSS Ship Interpid, RSS Vigour, and KRI Halasan bombarded targets using live ammunition 76 cannon and 57 mm cannon until the enemy ship was sunk.
The exercise continued with the detection of underwater targets using APV-RT launched by the ARSENAL team from KRI Halasan -630, and made the Photoex formation lineup supported together with Heli Panther and one MPA CN-235 aircraft (Indonesia) and one MPA 121-SQ aircraft (Singapore).
KRI SIM-367 Commander Marine Lieutenant Colonel (P) M. Fuad Hasan as Wadansatgas said that the exercise was a war training scenario in the training series with Eagle Indopura. "This exercise was carried out as an effort to improve professionalism and maintain the combat instinct of KRI Sultan Iskandar Mudaa-367 and KRI Halasan-630 soldiers so that they could show their best performance in joint exercises with Singapore Navy (RSN) soldiers," said Wadansatgas.