Training ship Esmeralda Arrives in Norfolk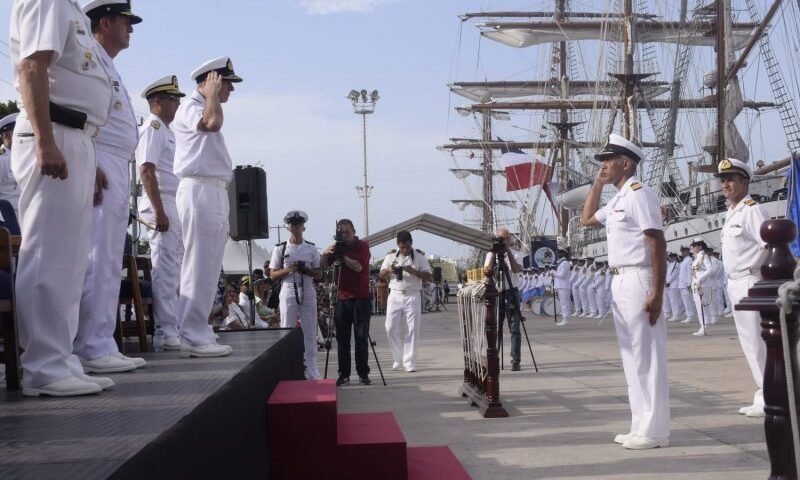 After twelve days of sailing, on August 6 the Training Ship "Esmeralda" successfully called at the US port of Norfolk, Virginia. This, after setting sail from Cartagena de Indias.
Before leaving Colombia, a military ceremony was held on the occasion of the closing of the anniversary activities of the 200 years of its Navy. The activity consisted of a farewell speech by the Commander in Chief of the Colombian Navy, the blessing of the commanders of the participating sailboats and subsequent departure of the Units, which later left the Bay of Cartagena in formation.
Already during the navigation to Norfolk, the "White Lady" resumed her training activities performing sailing maneuvers, classes and exhibitions. On this occasion also, instruction was carried out for lowering and hoisting boats with the participation of the entire crew.
The sailboat maneuvers were not exempt from the difficulties of the Caribbean Sea. Midshipmen and Sailors had to face unexpected strong winds, wind direction change, rain and thunderstorms.
In addition, in order to keep the Unit trained and support the training process, the Unit carried out exercises of different emergencies, such as main steering failures, propulsion and man overboard.
Likewise, the Unit carried out a round tack exercise, which consists of passing the stern of the ship through the wind with the aim of making a change of course. For this, the maneuver rigging is needed to be hunted, which is to have a certain group of sails deployed and the trained crew, to be able to work the rigging and sail simultaneously. In this activity, teamwork and discipline are important; all directed from the Command Bridge and controlled by the Petty Officers of each mast.
Finally, the ship successfully landed in Norfolk, being received by the Chargé d'Affaires of Chile in the United States, Officers of the Naval Mission in Washington and Chileans residing in the United States.