Project 677 Velikie Luki Launched by Admiralty Shipyards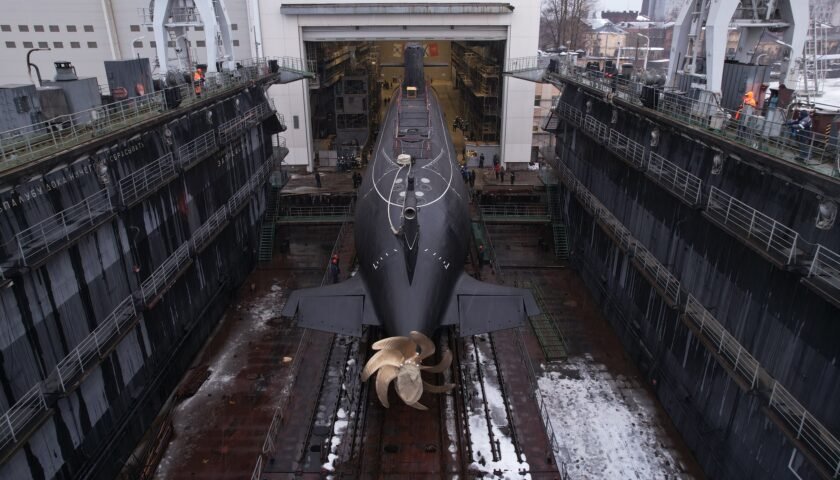 JSC "Admiralty Shipyards" (part of the United Shipbuilding Corporation) launched the submarine "Velikie Luki" project 677 "Lada".
During the event, Alexander Buzakov, General Director of JSC Admiralty Shipyards, noted that Project 677 is the future not only for the enterprise, but for the entire Navy.
"Velikiye Luki is a fourth-generation submarine, which differs significantly from Project 636 ships, primarily in terms of the level of automation," said the head of the enterprise. – These boats are single-hull, they are more maneuverable and compact. Our goal today is to fulfill the tasks set by the Russian Navy so that the Project 677 series of submarines enter service in a timely manner.
Aleksey Rakhmanov, General Director of the United Shipbuilding Corporation JSC, noted that the launching of the Velikie Luki submarine is a significant event for shipbuilders.
"It symbolizes the end of a certain big stage and, of course, promises us many successful final steps in building the ship and handing it over to the Navy," the head of the corporation emphasized.
The submarine Velikiye Luki was laid down at JSC Admiralty Shipyards in March 2015. The enterprise is building the ship according to the adjusted project, based on the results of trial operation of the Saint Petersburg submarine. On the submarine, the control system for ship technical means, the electric propulsion system, and the navigation complex have been modernized.
The enterprise continues construction of two more submarines of the project – "Vologda" and "Yaroslavl". They were laid down in pairs in June 2022. The state contract for their construction was signed between JSC Admiralty Shipyards and the Ministry of Defense of the Russian Federation in June 2019 as part of the Army-2019 Forum.
Project 677 submarines belong to the fourth generation of non-nuclear submarines and today are recognized as the most modern and promising domestic non-nuclear submarines, both in terms of combat effectiveness and other performance characteristics. JSC "Admiralty Shipyards" is the only shipbuilding plant of this class.