Project 21631 Naro-Fominsk Trials in Kronstadt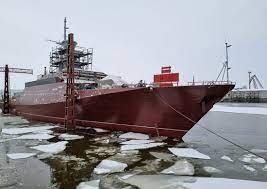 The newest small missile ship The Naro-Fominsk of project 21631, armed with Kalibr cruise missiles, will undergo trials in Kronstadt, the press service of the A.M. Gorky Zelenodolsk Shipyard (part of the Ak Bars Concern) has said.
At the external test base in Kronstadt the ship "will undergo all stages of factory sea trials and government certification tests."
The press service recalled that The Naro-Fominsk's keel-laying ceremony took place in February 2018. The ship was set afloat in December 2022.
Project 21631 ships, which have been built for the Russian Navy since 2010, are multi-purpose river-sea class ships equipped with the most advanced artillery, missile, anti-sabotage, anti-aircraft and radio-technical weapons. These ships' task is to protect and defend the national economic zone.
Currently, nine ships of this project are in operation in the Russian Navy. Each of them carries a universal firing system for eight Kalibr-NK or Oniks cruise missiles.
Via TASS