PNS Tippu Sultan Departs Colombo After Formal Visit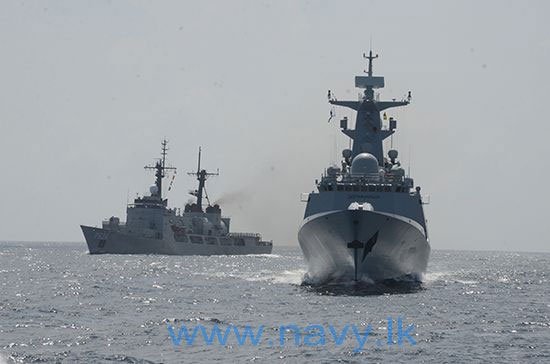 The Pakistan Naval Ship (PNS) Tippu Sultan which arrived in Colombo on 18th June 2023 on a formal visit, departed the island today (20th June). On her departure, PNS Tippu Sultan also conducted a successful Passage Exercise (PASSEX) with SLNS Gajabahu.
Sri Lanka Navy bade farewell to the departing ship in compliance with naval traditions. In the PASSEX formations and ship maneuvers, communication exercises were conducted, and it concluded with the customary cheer ship salute.
Meanwhile, the Commanding Officer of the Pakistan Naval Ship, Captain JAWWAD HUSSAIN TI called on Commander Western Naval Area, Rear Admiral Suresh De Silva at the Command Headquarters on 19th June. Moreover, the crew of PNS Tippu Sultan participated in a friendly volleyball tournament organized by the Sri Lanka Navy, with a view to promoting camaraderie between both navies.
During ship's stay in Colombo, Sri Lanka Navy personnel visited PNS Tippu Sultan, where they were briefed about the ship's operational capabilities. Further, the crew of Pakistan Naval Ship visited some of the tourist attractions in the country as well.
Visits of this nature will be a valuable tool in promoting cooperation between regional navies. Apart from that, naval exercises and other training engagements conducted during such visits help share knowledge and information about their respective maritime environments, which can be particularly valuable in dealing with nontraditional threats and other common maritime challenges.