New Tug Celadon Replaces Retiring Bison at Toulon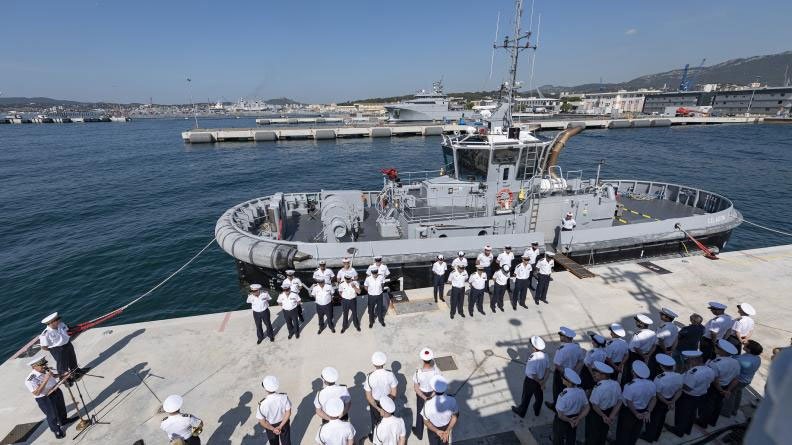 On May 26, 2023, a symbolic ceremony was held at the Toulon naval base, to recognize the admission to active service of the 30-tonne harbor tug (RP30) Céladon and the forthcoming withdrawal from active service of the coastal tug Voith -Schneider (RCVS) Bison, under the chairmanship of Wing Vice-Admiral Gilles Boidevezi, commander of the Mediterranean maritime zone and district.
On this occasion, the crews of the two "new and old generation" port machines were gathered on the Castigneau quay (CA3) close to the Toulon port facilities department, in front of their respective tugs. " It is a great satisfaction and an immense pride to see us gathered here, for the admission to active service of the Céladon, our first port tug with azimuth propulsion in the French Navy "; it was with these words that Captain Sébastien Rosier, commander of the Toulon naval base, began his speech.
Céladon is indeed the first of a series of twenty 30-ton port (RP) and coastal port (RPC) tugs, ordered in April 2020 from the Piriou shipyard in Concarneau, eight of which are intended for the port of Toulon. These tugs are intended to replace four types of gear: the RCVS, such as the Bison , the RP/RPC12 and the linear antenna spinners of the submarines called caudataires (the Phaéton in Toulon).
The Céladon differs from the previous generation in particular by a change in the mode of propulsion and the switch to Azimuthal Stern Drive (ASD) technology . It also offers additional power and maneuverability: an ability to respond effectively to the increase in the average tonnage of the fleet. It is in this capacity, after several months of training, that four petty officers received their RP30/RPC30 skipper diploma during the ceremony.
For the last crew of the Bison , it was an opportunity to experience a moving handover. One of the three Voith-Schneider coastal tugs in the French Navy is in fact completing a 42-year career during which it performed 350 tows and completed the equivalent of 8 times around the Earth. Intervening mainly in the Toulon naval base for port towing, its missions were devoted to supporting SNA for the passage of Suez and to monitoring maritime approaches.
A successful transition which confirms the desire to remain at the forefront of innovation in the naval field, and as Captain Sébastien Rosier underlined at the end of his speech: "This is an important milestone in the naval history of the port of Toulon, thus placing military port towage in a new era ".