New Belgian/Dutch ASW Frigates in Service from 2029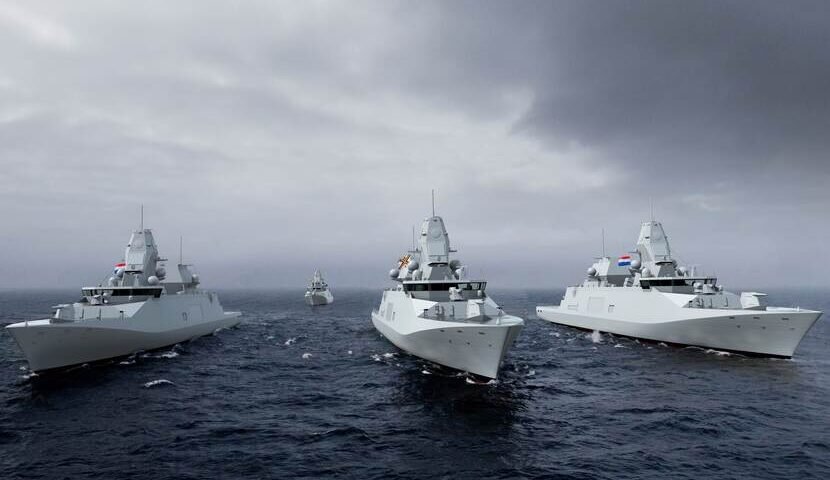 Defense has 4 Anti Submarine Warfare (ASW) frigates built, 2 for the Dutch and 2 for the Belgian navy. Damen builds the ships, Thales Nederland builds the integrated radar and fire control system. State Secretary Christophe van der Maat reports this to the House of Representatives today. The Belgian Council of Ministers has approved the purchase.
The ASW frigates replace the current 4 multipurpose frigates (M frigates). The Dutch and Belgian ships have now reached the end of their service life, although they are still deployable. The first frigate is for the Royal Netherlands Navy and should be ready for use in 2029. The second ship goes to Belgium a year later. The two remaining frigates will follow in the following years for the Netherlands and Belgium respectively.
The Netherlands and Belgium are working together on design, acquisition, use and maintenance. This is already happening with the mine countermeasures vessels. This not only saves costs, but also benefits international cooperation.
Van der Maat: "The new ASW frigates provide an important reinforcement of the Royal Netherlands Navy's striking power. With our cooperation, Belgium and the Netherlands are taking the next step in the field of international defense cooperation. Our countries are at the forefront of this in Europe."
For the Dutch industry, the construction of these high-quality ships can provide a stronger international market position. In addition, the business community has a role in the maintenance of the ships. Defense is already preparing for that.
The main task of the ASW frigates is remote detection and combat of submarines. This is done, among other things, with the NH90 on-board helicopter. Both the frigate and the helicopter can launch a torpedo to disable or drive off a submarine. It concerns the Mk54 torpedo, which will be available in a few years. The ASW frigate is difficult to detect by submarines and can defend itself against torpedo attacks.
The ships will also be equipped with the most modern armament and sensors. Consider, for example, the Under Water Warfare Suite . This gives the crew timely insight into the submarine threat. But the Naval Strike Missile for surface targets and the ESSM Block 2 for air defense will also be on board.
Defense purchases these and numerous other systems from a total of dozens of different companies. A number of contracts are expected to be signed around this summer. The remaining contracts for these sub-projects will follow this year or at the latest in 2024. The construction of the 2 ASW frigates involves an investment of approximately € 1.9 billion.
The ASW frigates are robust and capable vessels. There is room on board for a 117-person crew. In addition, there is room for 35 people who sail along for specific missions. Furthermore, the 2 Dutch frigates are named after women who have had a great significance for Dutch freedom. The House passed a motion on this in 2020.