Navy Personnel Briefed on briefing on BRP Antonio Luna's Combat Systems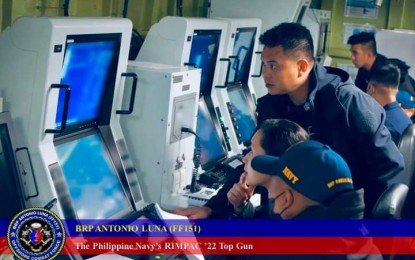 Naval personnel from the offshore patrol vessel BRP Ramon Alcaraz (PS-16) got a first-hand look at the Naval Shield Combat Management System (NSCMS) installed in the missile frigate BRP Antonio Luna (FF-151) last Jan. 12 to 13.
"BRP Antonio Luna has served a productive and purposeful local informational program visit (IPV) to the students of NSCMS of BRP Ramon Alcaraz PS16 last 12-13 January 2023," the missile frigate said in its Facebook post on Monday.
NSCMS is considered the nerve center of the Jose Rizal-class frigates and consists of onboard sensors that detect and monitor incoming surface, air and sub-surface threats. It also provides weaponry options that can neutralize these threats.
"Said IPV gave the students an adequate knowledge and practical training that equipped them to understand the sophisticated systems aboard ship, and have raised their level of appreciation when it comes to modern naval warfare. More so, this IPV helped the officers and personnel to be more prepared (for) their future roles as warfare directors and operations specialists," BRP Antonio Luna added.
This is the second visit of the crew of BRP Ramon Alcaraz to the BRP Antonio Luna for a local IPV and on-the-job training of their students in connection to their NSCMS familiarization course.
"FF-151 is indeed grateful to have showcased the warship's modern systems and capabilities to the CIC (combat information center) team of PS-16," it added.
The BRP Antonio Luna and its sister ship BRP Jose Rizal (FF-150) are modern warships capable of surface, sub-surface, air and electronic warfare using state-of-the-art electronic sensors, long-range missiles, acoustic guided torpedoes and embarked anti-submarine helicopters.
The BRP Jose Rizal was delivered to the Philippines in May 2020 and commissioned in July of the same year while the BRP Antonio Luna was commissioned on March 19, 2021.
The contract for the two ships was placed at PHP16 billion with another PHP2 billion for weapon systems and munitions.