KRI Frans Kaisiepo Conducts Joint UNIFIL Training with ITS Andrea Doria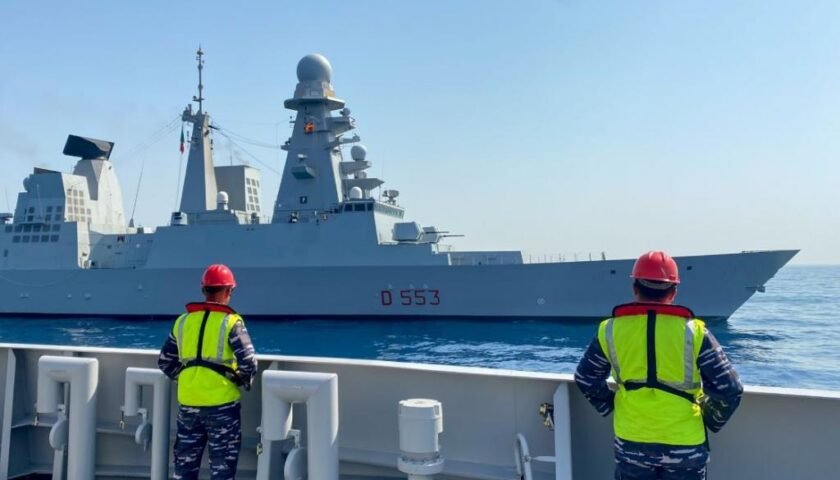 After previously getting outstanding performance from the UNIFIL First Quarter Evaluation Team, the Republic of Indonesia Warship (KRI) Frans Kaisepo-368 which is a member of the Maritime Task Force (MTF) of the Konga XXVIII-N / UNIFIL TNI again achieved success in the Passage Exercise exercise in the Mediterranean Sea, Friday (10/03).
The success of the UN peacekeeping mission carried out by elements of the Maritime Task Force (MTF) in Lebanon is inseparable from the diplomacy carried out with other elements of maritime powers in the region including the Combine Maritime Force. Naval diplomacy has a central role in the architecture of world peace with the aim of confidence building measure, security enhancement and defense capacity.
This is what underlies MTF Commander, RADM Michael Busse from the German armed forces gave full confidence to KRI Frans Kaisiepo-368 to represent MTF carrying out the exercise with the ITS Italian Navy frigate Andrea Doria D-553 which is carrying out maritime security operations in the Mediterranean sea under the Combined Maritime Forces.
The exercise with the Italian destroyer began with a steam-pass as a tribute followed by an exchange of personnel using the Rigid Hull Inflatable Boat (RHIB). The exercise continued with maritime picture compilation, advance maneuver, flag hoist, replenishment at sea approach and photo exercise.
In the exercise, KRI Frans Kaisiepo-368 also carried out heli operations by flying Heli Panther HS-1306 to carry out Intelligence, Surveillance and Reconnaissance (ISR) as well as aerial photographs.
Commander of Task Force (Dansatgas) MTF TNI Konga XXVIII-N/UNIFIL, Lt. Col. (P) John David Nalasakti Sondakh said that this exercise is an opportunity and honor for us to train with the professional Italian Navy, and we are able to demonstrate the role of warships of the two countries collaborating with each other, as well as demonstrate maneuverability professionally in order to test interoperability and operational preparedness.
Dansatgas further said that the exercise is a form of naval diplomacy that contributes to the success of peacekeeping missions and builds trust, also aims to improve professionalism, sharpen combat instincts, and strengthen cooperation in the area of operation.
Closing out the training series, the two warships carried out Farewell Sail Past with honors and formation break away. ITS Commander Andrea Doria, Captain Navy Massimo Petricca expressed his high appreciation for the success of the exercise which he said was important to increase cooperation between elements in the UN peacekeeping mission.
The success of KRI FKO-368 in the Passage Exercise in the Mediterranean Sea is in line with the emphasis of the Chief of Naval Staff (Kasal) Admiral TNI Muhammad Ali, namely to always improve combat readiness and preparedness of the Integrated Fleet Weapon System (SSAT) wherever it is located so that it can be deployed at any time.