KRI Bontang Provides Security at Presidential Visit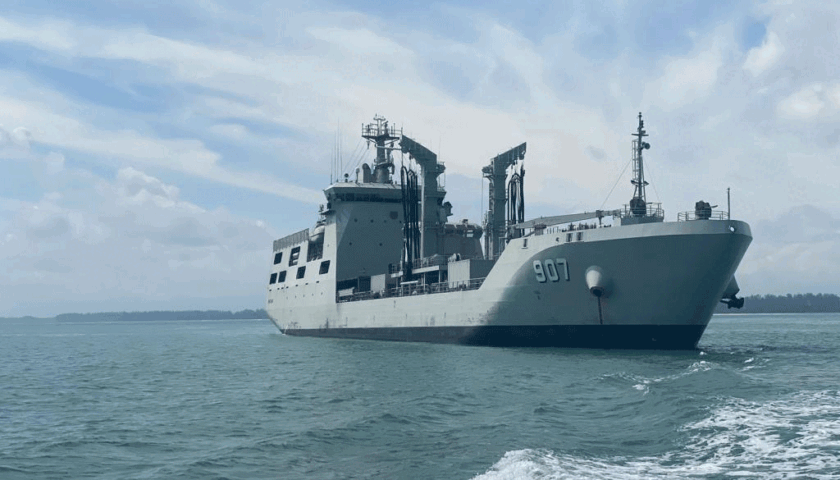 The Bengkulu Navy Base (Lanal) accompanied by the KRI Bontang-907 BKO Guskamla Koarmada I Sea Security Element also secured the working visit activities of the President of the Republic of Indonesia Ir. H. Joko Widodo along with Mrs. Hj. Iriana Joko Widodo and her entourage in Bengkulu Province for 3 (three) days, starting Wednesday (19/07/2023).
Lanal Bengkulu deployed a number of its soldiers who were divided into several teams to fill in various sectors passed and visited by the President of the Republic of Indonesia and his entourage since arriving at Fatmawati Soekarno Airport Bengkulu, including Route Security (Pam), Pam Curtain Fatmawati Soekarno Airport, Pam Curtain Mercure Hotel, Pam Curtain Mega Mall and Pasar Minggu, Pam Curtain Festival Ark, Pam Gardu PLN, Open/Close Pumps, and Coastal and Marine Pumps.
KRI Bontang-907 with a length of 125.5 meters and a displacement (GT) of 5,743 tons, which is an element of BKO Guskamla Koarmada I accompanied by Mego Island Navy Ships (KAL) ranks of Lanal Bengkulu participated in carrying out field maneuvers and sea patrols around Bengkulu Waters to ensure the situation of Indian Ocean Waters and Bengkulu Waters in a safe and conducive condition.
Lanal Bengkulu Commander Marine Lieutenant Colonel (P) Nyoman Gede Pradnyana A.S, and KRI Bontang-907 Commander Sea Lieutenant Colonel (P) Benedictus Hery Murwanto were also proud in participating in the security of VVIP RI 1 in Bengkulu Province. This is one of the SOPs of the VVIP Security of the Head of State and part of the Order of the Chief of Naval Staff (KASAL) and the Commander of Koarmada I to participate in securing the sea waters of the Bengkulu region during the working visit of the President of the Republic of Indonesia and his entourage.