ITS Andrea Doria Relieves Alpino in SNMG2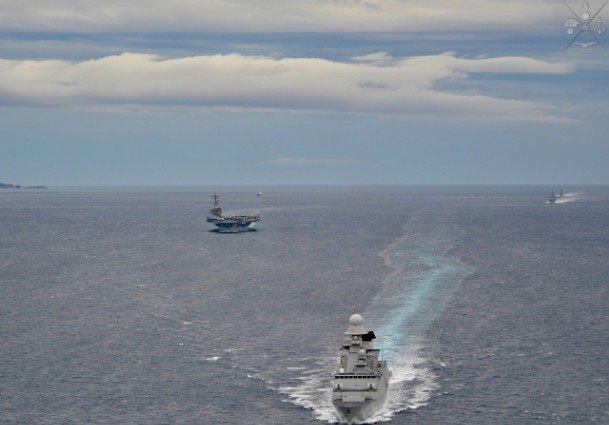 From 2 to 25 November 2022, in fact, the ALPINO frigate of the Navy – Unit of the "Bergamini" Class with peculiar Anti-Submarine Warfare (ASW) capabilities – was aggregated to the Standing NATO Maritime Group 2 (SNMG2).
Nave Alpino, its crew and the specialized components on board, such as the team ofSan Marco Marine Brigadeand the helicopter component, have represented a decisive contribution in guaranteeing a continuous and visible presence of the Atlantic Alliance, as well as the surveillance of everything that sails under the surface of the Mare Nostrum.
It took the place of ship Alpino destroyer Andrea Doria, under the Tactical Command of the Group Commander, Rear Admiral (US Navy) Michael Scott Sciretta embarked on the destroyer USS Forrest Sherman, and until December 31 will have the task of providing constant support and protection to the American aircraft carrier group (Carrier Strike Group 10 – CSG10), consisting of the USS George HW Bush aircraft carrier, the Ticonderoga-class cruiser, USS Leyte Gulf and the Arleigh Burke-class destroyer, USS Truxtun, also fulfilling tasks of airspace control and air defense of the aircraft carrier, thanks to the peculiar characteristics that Horizon class units are capable of expressing within a naval device.
The Naval Group constitutes a continuous and visible presence of the Alliance's solidity and cohesion, guaranteeing the fulfillment of defense and deterrence tasks against any form of direct threat to collective security, missions that fall within the new strategic concept of "Deterrence and Defense."