First NATO Eastern Mediterranean Sea Guardian Patrols for 2023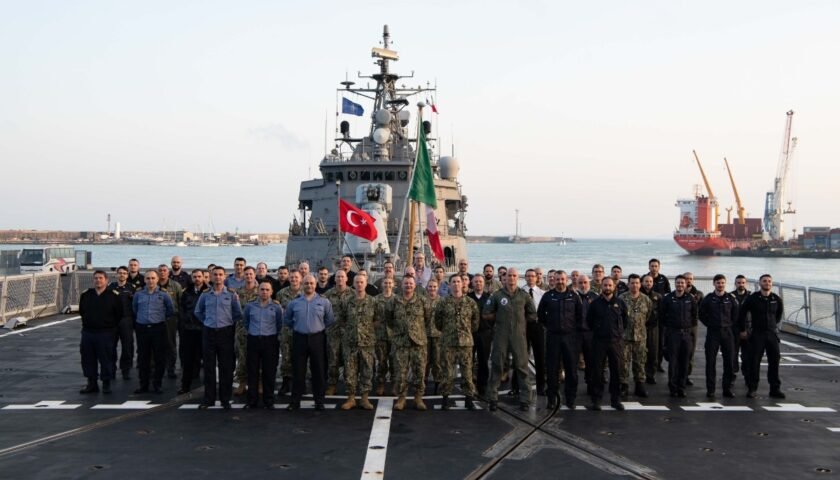 NATO's Operation Sea Guardian (OSG) Task Group, led by Turkish flagship TCG Kemalreis, has completed a focused maritime security patrol in the Eastern Mediterranean.
The three-week deployment was the first of six OSG focused maritime security patrol operations NATO has scheduled for this year. TCG Kemalreis led a task group composed of Italian frigate ITS Margottini and submarines from Greece and Turkey. Maritime Patrol Aircraft and Airborne Early Warning aircraft from Greece and Turkey were also in support.
Despite the devastating earthquake which hit Turkey and Syria on the 6th February, TCG Kemalreis and her crew continued with their commitment to the OSG mission, highlighting its importance in maintaining security in the Mediterranean Sea. They went on to deliver the Maritime Situational Awareness (MSA) so vital to NATO and its partner nations.
Meanwhile, Standing NATO Maritime Group 2 (SNMG2) also deployed to the Eastern Mediterranean to provide additional MSA. The US Navy flagship USS James E Williams was joined by Canadian ship HMCS Fredericton, Greek ship HS Psara and Turkish ship TCG Barbaros, which made up the SNMG2 task group.
OSG is a collaborative, year-round maritime security operation designed to maintain MSA, deter and counter terrorism activity, and build capacity and interoperability among NATO Allies and partners. In addition to the daily MSA activities, OSG has been conducting focused patrols in specific areas of interest in the Mediterranean Sea.