Falcon 200 Guardian Deploys to Exercise SAMA SAMA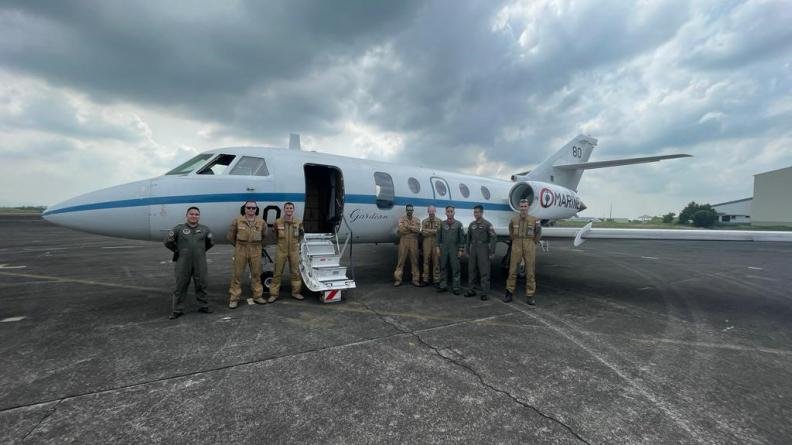 From 10 to 17 October, a Falcon 200 Guardian from Flotilla 25F was deployed from Clark Air Base in the Philippines to participate in the bilateral SAMA SAMA exercise. For the first time, this exercise was conducted simultaneously with its counterpart LUMBAS 2022, a bilateral exercise between the Philippine Navy and the Royal Australian Navy.
Taking place in the Philippines and bringing together 5 partner countries (Australia, United States, France, Japan and United Kingdom) around the theme of maritime security, SAMA SAMA has enabled the naval and air forces present to gain interoperability in several areas: rescue at sea, anti-aircraft combat, refueling at sea and surveillance of maritime spaces.
The 25F Flotilla detachment and its Falcon 200 Guardian conducted joint training with their Filipino and American counterparts, engaged on the maritime patrol and anti-submarine warfare aircraft the P8APoseidon, the twin-turboprop C90 and the twin-engine Islander propeller.
During a maritime patrol flight in the exercise area, the crew had the opportunity to embark two Filipino soldiers to share the procedures and methods followed by French airmen during this type of mission conducted in a multilateral context.
This participation in SAMA SAMA – LUMBAS 2022 reflects the France's desire to develop and maintain the high level of interoperability of FAPF with their partners in the Asia Pacific region. On this occasion, the France illustrates its status as a coastal and sovereign nation of the Pacific, concerned about the security challenges of the region.
The 900 soldiers of the Armed Forces in French Polynesia (FAPF) constitute a pre-positioned joint force dominated by the navy, which, together with the Armed Forces in New Caledonia (FANC), has as its main mission to ensure the sovereignty of the France in the Asia-Pacific zone and to position the France as a sovereign nation bordering the area. It can be reinforced from time to time by metropolitan elements, enabling the France to intervene in the event of natural disasters, to combat growing threats such as illegal trafficking, to confirm its commitment to international law and freedom of navigation, and to lead regional military cooperation with all countries bordering the Pacific zone.