Colombian Navy Intercepts Cocaine Submersible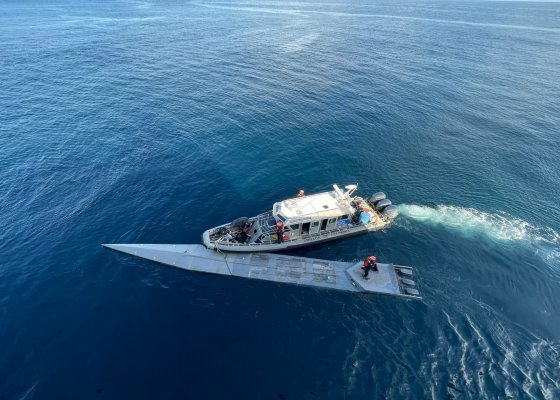 The Colombian Navy in the development of maritime control and security operations in the Colombian Pacific, carried out the interdiction of a semi-submersible of approximately 15 meters long, in which 2643 kilograms of cocaine hydrochloride were transported and would be destined for distribution Central America.
Once the illegal device was located, outside it at the top, the military personnel found two subjects in poor health, apparently inside the semi-submersible type boat there was an accident due to the generation of toxic gases from the fuel. The two men were treated and transported to a ship that was in the area where they were given the relevant medical attention to safeguard their lives.
During the inspection of the illegal device that had a large access to water, two lifeless bodies were found and recovered. The Colombian Marines, after carrying out these procedures, recovered the alkaloid that was transported inside the semi-submersible.
Subsequently, the rescued people, the bodies and the cache were transferred to the municipality of Tumaco – Nariño, where they were placed before the Technical Investigation Corps of the Attorney General's Office, which determined that the alkaloid was cocaine hydrochloride.
With this operational deployment that had foreign support, more than 87 million dollars were prevented from entering the financial structures of drug trafficking organizations that commit crimes in the Colombian Pacific and more than six million doses from circulating in the international illegal market.
The Colombian Navy will continue to deploy all its capabilities to counter the scourge of drug trafficking structures that commit crimes in the Colombian Pacific.