Colombian Navy Delivers Humanitarian Aid to Alta Guajira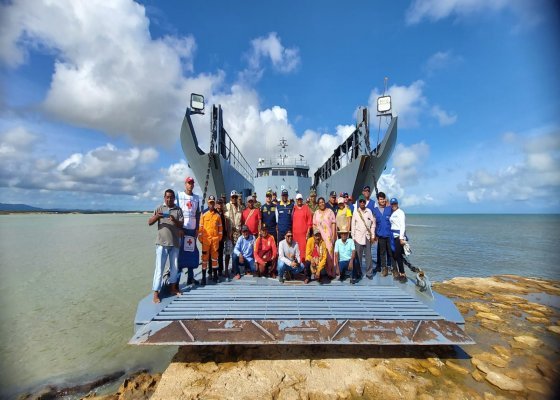 A total of 116 tons of humanitarian aid were transported aboard the ARC Ship "Gulf of Urabá" of the Colombian Navy, to the towns of Bahía Honda, Puerto Estrella and Puerto López, in La Guajira.
In an inter-institutional effort between the Colombian Navy, the National Unit for Disaster Risk Management – UNGRD and different national organizations, it was possible to benefit more than 5,000 thousand people from Alta Guajira, including families belonging to 18 indigenous communities. Wayuu, with the delivery of 116.7 tons of humanitarian aid.
Among the aids delivered, 88,358 kilograms of food kits, 3,013 hygiene kits, 1,500 bottles of water, 20,000 gallons of drinking water in five-liter bottles and more than 3,500 items corresponding to sheets, mosquito nets and hammocks, as well as items donated by the Colombian Red Cross, allowing the Unified Action of the State to be brought to vulnerable communities in the department of La Guajira, which were affected by the passage of tropical storm Julia and the growing winter wave.
Free assistance sessions were held for more than eight days, in which, with the great professionalism and responsiveness of the crew of the ARC "Gulf of Urabá" Amphibious Landing Ship, it was possible to transport, store and deliver humanitarian aid in the company of officials from the National Disaster Risk Management Unit and support from the National Army, strengthening the quality of life and the social fabric of the inhabitants of this region of the country.
For its part, the Ballenas Coast Guard Station supported the deployment of Units that ensured maritime safety at all times on the Riohacha coast. Likewise, the Captaincies of the Port of Riohacha and Puerto Bolívar carried out a detailed monitoring of the operation and of the meteorological conditions of the maritime sector of La Guajira.
The Colombian Navy will continue to coordinate efforts with national, local and government agencies to continue having a positive impact on the most vulnerable communities in the Colombian geography, generating safe environments that allow closer ties of friendship with the population, likewise, ratifies its unrestricted commitment to contribute to human security and the construction of a better country.