Cantiere Navale Vittoria Delivers Maltese OPV P71 in Valletta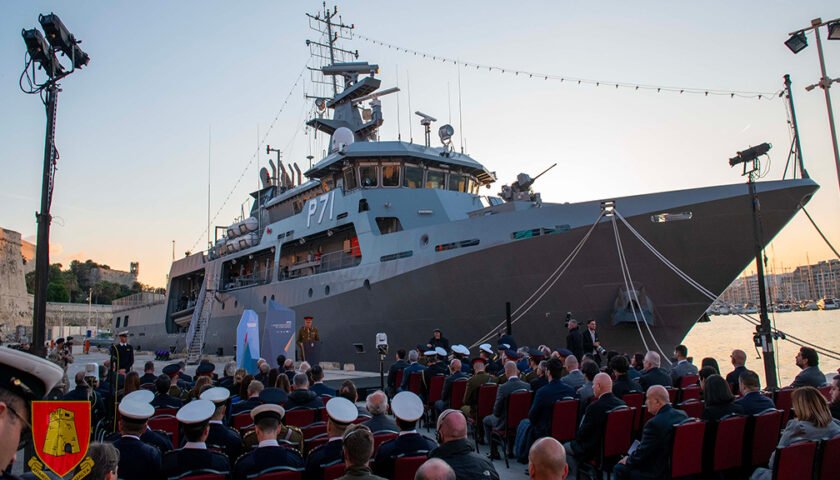 The flag of the Republic of Malta flies on the Offshore Patrol Vessel P71 to sanction the entry into service of the new flagship of the Armed Forces of Maltabuilt by Cantiere Navale Vittoria. On 22 March, in the AFM naval base in Floriana, Valletta, in the presence of the Minister of the Interior, Security, Reforms and Equality of the Republic of Malta, Byron Camilleri, the Minister of Economy, of the European Funds and the Territory of the Republic of Malta, Silvio Schembri, of the Parliamentary Secretary for the European Funds, Chris Bonett, of the Head of the Maltese Armed Forces, Brigadier Clinton O'Neill, of the Italian Ambassador in Valletta, Fabrizio Romano, and of the board member of Cantiere Navale Vittoria's Board of Directors, Luigi Duò, the official delivery ceremony of the patrol boat, in Malta for some months now.
The 75-metre -long unit , built at the Adria plant, will be used in coastal surveillance operations, extended patrolling on the high seas and Search and Rescue operations.
Luigi Duò, member of the board of directors of the Vittoria Shipyard during the ceremony thanked the institutions present and the representatives of the AFM for their collaboration and trust, underlining that: "The vessel now supplied to the Maltese Armed Forces, due to its design qualities, technical and equipment, will be able to represent an international point of reference for units of the same type. Honored by the relationship of esteem and collaboration built up over the years and which began decades ago with the delivery of the two Melita SAR units , we look to the future with hope, certain that the P71 unit, our 890th unit, will be up to all the specific tasks for which it was conceived and built. We just have to wish the men and women of the armed forces good seas".
OPV P71 is the result of the contract, with a total value of over 50 million euros, obtained through participation in a pre-selection first and in an international public tender then headed by the Ministry of Defense of the Island and co-financed (for 75%) by the EU under the Internal Security Fund (ISF) 2014-2020 , the fund set up by the Union for the implementation of the internal security strategy, law enforcement cooperation and management of external borders of European countries.