ARC Golfo De Urabá Providing Assistance to Alta Guajira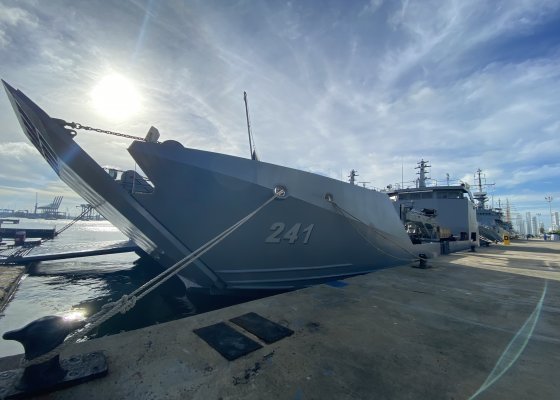 Thanks to the articulated work between the Colombian Navy, the National Disaster Risk Management Unit – UNGRD and different national organizations, the ARC "Golfo de Urabá" ship sailed from the main dock of the ARC "Bolívar" Naval Base in Cartagena. ", with more than 10,000 humanitarian aid and 20,000 gallons of drinking water, to benefit the most vulnerable communities in the department of La Guajira affected by the passage of tropical storm Julia and the winter wave.
On board the ARC ship "Gulf of Urabá" there are more than 20 Marines from Colombia, who together with Coast Guard crew members deployed north of La Guajira, will be in charge of transporting, collecting and delivering humanitarian aid in the company of officials from the National Disaster Risk Management Unit.
In these sessions, which will take place for eight days free of charge, Guajira families will receive 13,000 tents, 5,000 markets with basic products from the family basket, 3,000 sheets, 800 cleaning kits, 400 kitchen kits, as well as comprehensive assistance. that allows them to improve their quality of life and contribute to the strengthening of the social fabric.
The communities benefiting from this delivery of humanitarian aid will be Bahía Honda, Bahía Portete and Puerto Estrella, as far as the Unified Action of the State will go to guarantee the coverage of the unsatisfied basic needs of the population of La Guajira and make a presence in compliance with the Defense and Sovereignty of the Nation.
The Colombian Navy continues to coordinate efforts with national, local and government agencies to positively impact the most vulnerable communities in the Colombian geography, generating safe environments that allow closer ties of friendship with the population, likewise, ratifies its unrestricted commitment to contribute to human security and the construction of a better country.