USS Thresher: A Loss, A Legacy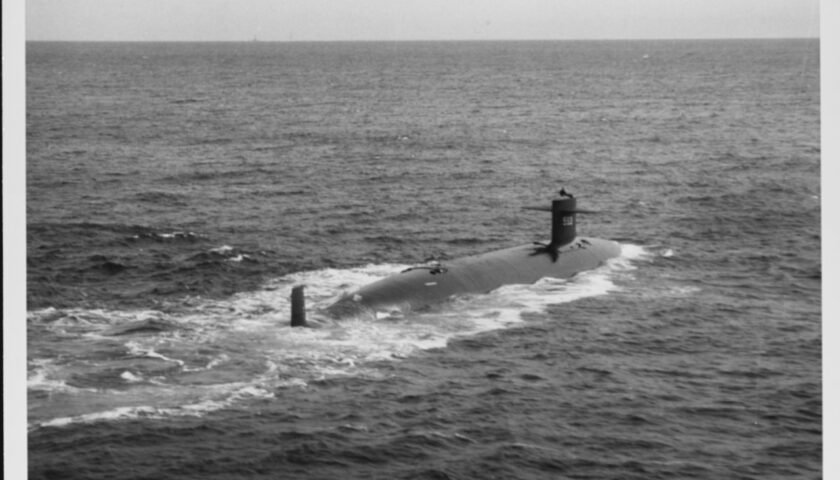 On April 9, 1963, USS Thresher (SSN 593), the lead nuclear-powered attack submarine of her class, sailed from Kittery, Maine, to approximately 220 miles east of Massachusetts to conduct deep-diving tests. She carried 129 men, including her crew and several shipyard personnel.
After a rendezvous with Penguin-class submarine rescue ship USS Skylark (ASR 20), Thresher conducted trials throughout the day, before submerging overnight. The following morning, after reestablishing comms with Skylark, Thresher commenced deep-dive trials.
She dove slowly in a circular pattern beneath Skylark, maintaining communications, and stopping every 100 feet to check system integrity. But as Thresher approached her test depth of 1,300-feet, Skylark received an alarming, partial message. " … Minor difficulties. Have positive up-angle. Attempting to blow …" Another unclear communique was received which included the number "900."
No further messages came through. The Navy would eventually establish that Thresher and her crew were lost on April 10, 1963 once the boat descended below crush depth, due to uncontrolled flooding, and imploded under the devastating pressures of the ocean.
Built to hunt and destroy hostile enemy submarines, Thresher was the quietest and fastest submarine of her time. Equipped with the most advanced weapons and detection systems available, no one would have predicted that the boat could have possibly suffered such a fate. Being the first nuclear submarine lost at sea and the deadliest submarine incident in U.S. history, the submarine community, and indeed the entire nation, were devastated by the loss.
"When you lose a modern-day nuclear submarine and all the lives on board that boat, that's going to greatly impact the submarine force," said Rear Adm. Scott Pappano, program executive officer, Strategic Submarines (SSBN). "That was very much an eye-opener for the submarine community; a devastating accident that forced us to really take a hard look at what we were doing and how we were designing, building and sustaining submarines going forward. The loss of the Thresher brought about a change in how we do submarine design, to minimize the possibility of this ever happening again."
After thorough review of the loss of Thresher, the Navy established the Submarine Safety Program (SUBSAFE), to provide maximum reasonable assurance that submarine hulls will maintain watertight integrity, and that the boats can recover from unanticipated flooding. This rigorous quality control program oversees any and all systems that are exposed to seawater or would be critical to recovering the boat in the event of flooding.
SUBSAFE certification occurs throughout the areas of design, material, fabrication, and testing. Each step requires records collection, review, and approval. The records must also be stored for the entire life of the submarine. Material traceability starts at original manufacturing and continues up to the point of installation and through final certification. This tracking is so thorough that it includes records of source materials (such as which quarry a metal was mined from) and material manipulation processes (such as smelting).
"The SUBSAFE program was established and fundamentally changed and improved our processes," said Rear Adm. Jon Rucker, program executive officer, Attack Submarines (SSN). "These processes – material, construction, maintenance, testing, certification, training, etc. – have been and remain vital to ensuring the safe continued operation of our submarines."
Prior to the inception of SUBSAFE, from the onset of World War I to 1963, the U.S. lost 16 submarines in non-combat related incidents. Since adopting SUBSAFE procedures the U.S. Navy has only lost one submarine, USS Scorpion (SSN 589). However, Scorpion was not SUBSAFE-certified and sank for unknown reasons in 1968.
"We maintain rigorous safety and technical proficiency in everything we apply to these boats," Pappano added. "These are key tenets of the submarine program and make us who we are and define how we deal with our submarines and making sure that we can go be effective assets for the Navy and never repeat the loss of the Thresher."
The SUBSAFE program, which falls under Naval Sea Systems Command (NAVSEA), has been so successful at preventing a repeat of the Thresher incident that other agencies have looked to SUBSAFE's example for guidance. Following the loss of the Space Shuttle Columbia, the Columbia Accident Investigation Board identified SUBSAFE as one of only three "successful safety programs and practices that could be models for NASA." Several subject-matter expert exchanges were held to help NASA identify ways their program could be improved to prevent future catastrophic casualties.
The loss of Thresher, and the lost lives of the 129 men on board, will forever remain a tragic moment in naval history, but that sacrifice led to the creation of a program dedicated to ensuring that the U.S. Navy reduces the risk of such a catastrophe.
"It is important to understand the details about this event including what happened, the root causes, the actions we took, and the program and processes we have in place today to ensure safe operation of our submarines," Rucker stressed. "We must never forget what happened and we must maintain continued vigilance in our efforts to ensure the SUBSAFE program, as well as the other special emphasis programs, are maintained to the highest standards. It is a culture that takes continued effort and attention as we owe that to the personnel that operate our submarines every day."