USS San Jacinto Decommissions After 35 Years of Service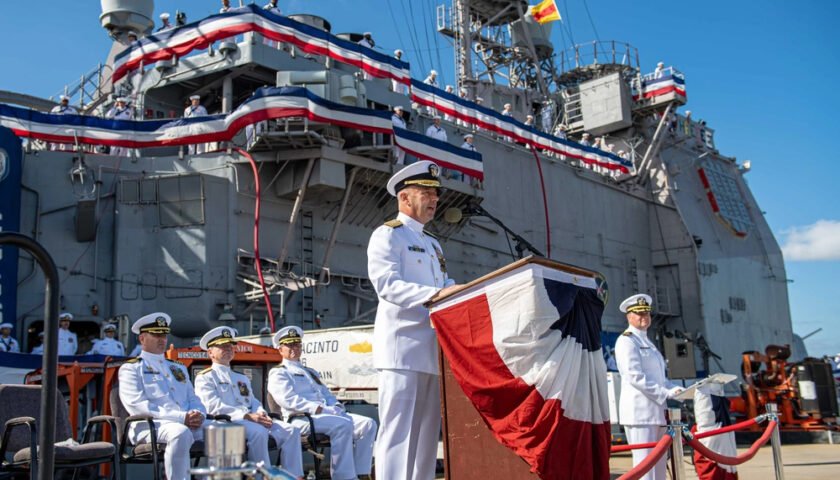 USS San Jacinto (CG-56) honored more than three decades of naval service during a decommissioning ceremony at Naval Station Norfolk, Sept. 15.
Vice Adm. Jim Kilby, deputy commander, U.S. Fleet Forces Command, who previously served two tours aboard San Jacinto, presided over the ceremony and provided keynote remarks.
"When we serve on a ship, it becomes part of us, I mean who we are, how we think, and how we conduct ourselves." said Vice Adm. Kilby. "San Jacinto is the most formative and significant ship I have ever served on. I worked for five consecutive commanding officers, as Operations Officers and Executive Officer. I owe San Jacinto and many of you an unpayable debt of gratitude."
Capt. Christopher E. Marvin, who served as the twentieth and final commanding officer of San Jacinto, oversaw a crew of 30 officers and 300 enlisted members, and led the warship during their final deployment in the Mediterranean Sea as part of the Harry S. Truman Carrier Strike Group in support of U.S. 6th Fleet and NATO exercises in 2022.
"The professionalism and warfighting excellence San Jacinto has imparted on those that have served aboard over 35 years will provide an enduring legacy and serve the Navy and nation for years to come."
San Jacinto is the tenth Ticonderoga-Class cruiser, and the third warship in the Navy named for the Battle of San Jacinto. The first San Jacinto was a frigate built in 1851, fought in the Civil War for the Union, and was sold in 1871. The second San Jacinto (CVL 30) was an aircraft carrier that was commissioned Nov. 15, 1943, fought in WWII and was decommissioned March 1, 1947.
The San Jacinto's construction began Oct. 5, 1984, at Ingalls Shipbuilding in Pascagoula, Mississippi. Her keel was laid July 24, 1985. She was launched on Nov. 14, 1986, and christened Jan. 24, 1987 by the warship's sponsor, Dr. Wendy Lee Gramm, wife of United States Senator from Texas, Phil Gramm.
San Jacinto was commissioned on Jan. 23, 1988, in Houston, Texas, by then-Vice President George H.W. Bush, who himself served aboard the second San Jacinto (CVL 30) during World War II.
Since her maiden deployment in 1989, the warship has demonstrated the combat credibility of our Navy and has served as an exemplar for the Navy's mission to defend freedom, preserve economic prosperity, and keep the seas open and free.
In August 1990, she executed short-fused deployment in support of Operation Desert Shield, where she served as Red Sea Battle Force Anti-Air Warfare Commander and launched the first Tomahawk Cruise missiles ever fired in combat during the opening salvos of Operation Desert Storm.
Other operation highlights include: directly supporting Operations Southern Watch, Inherent Resolve, and Iraqi Freedom; counter terrorism operations following the September 11 attacks; various maritime interdiction and interception operations; humanitarian assistance and disaster relief efforts as well as a sustained focus on partnership building during multi-national, Joint, and NATO exercises.
In January 2020, she deployed as a part of the Dwight D. Eisenhower strike group to the Arabian Sea, breaking the U.S. Navy record for consecutive days at sea at 206.
The name San Jacinto honors the April 21, 1836 battle by the San Jacinto River in Texas, where Gen. Sam Houston and his greatly outnumbered Texas soldiers won independence for the Republic of Texas, decisively defeating Gen. Santa Anna and his 1,200-1,500 man Mexican Army. Houston made an eloquent speech to his troops, closing with inspiring words, "Victory is certain! … Remember the Alamo!"
Embodying that same toughness, grit, and tenacity, San Jacinto Sailors adopted this same mantra.
"Throughout her service, San Jacinto executed 16 deployments, many availabilities, and as many training cycles. She was upgraded with the latest combat systems, her crew professionally trained over her life to continue to be a true lynchpin in our Fleet," said Kilby. "By my rough estimates she has had over 6,000 Sailors serve on her and steamed over 500,000 nautical miles during deployments. She earned 15 Battle E's as a testament to her sustained excellence. San Jacinto's legacy is a tribute to her crews, all of us, she certainly lived up to her motto, "Victory is Certain."
In the warship's storied 35 years of service, her crew has been awarded the Chief of Naval Operations Commendation, Humanitarian Service Medal, Southwest Asia Service Medal, Joint Meritorious Unit Commendation, Secretary of the Navy Letter of Commendation, Global War on Terrorism Expeditionary Medal, Armed Forces Expeditionary Medal, Armed Forces Service Medal, Navy Unit Commendation, Presidential Unit Citation, Meritorious Unit Commendation, and Navy E Ribbon.
San Jacinto will be inactivated and towed to the Navy's Inactive Ship Maintenance Facility in Philadelphia, Pennsylvania where they will be in a Logistic Support Asset (LSA) status.