USS Rafael Peralta Departs Tomakomai, Japan, After Port Visit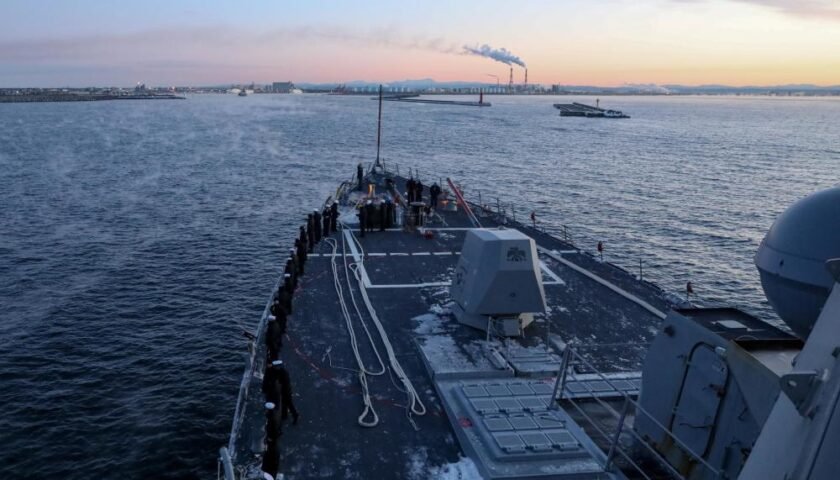 Arleigh Burke-class destroyer USS Rafael Peralta (DDG 115) departed Tomakomai, Japan, following a scheduled port visit, Feb. 3.
The visit was the first by a U.S. Navy ship to Tomakomai since USS Curtis Wilbur (DDG 54) and USS John S. McCain made port visits in February 2014.
"It is truly an honor and privilege to visit the wonderful city of Tomakomai," said Cmdr. Charles Cooper, Rafael Peralta's commanding officer. "The warm welcome we received is representative of the great friendship our two Allied nations share, the warm welcome and friendship made it possible for our Sailors to fully enjoy the vibrant culture, delicious food and winter recreational activities during our stay."
During the visit, Rafael Peralta hosted ship tours for special guests and media, and the ship's senior leadership visited with local leaders at Tomakomai City Hall.
"I think it is necessary to maintain and enhance deterrence," said Hirofumi Iwakura, mayor of Tomakomai. "Allowing the ship to visit is an effective security measure for Japan."
Rafael Peralta Sailors spent much of the port visit exploring Tomakomai and other areas throughout the island of Hokkaido, including Sapporo, Mt. Tarumae and Lake Utonai.
"I think my favorite part of the port visit was that the people seemed really happy to see us out there," said Hull Maintenance Technician 3rd Class Andrew Wolf, from Tustin, California. "I would absolutely be happy to visit again and I hope to have the opportunity to do that."
Rafael Peralta is assigned to Commander, Task Force 71/Destroyer Squadron (DESRON) 15, the Navy's largest forward-deployed DESRON and the U.S. 7th Fleet's principal surface force.