USS Milwaukee (LCS 5) Decommissions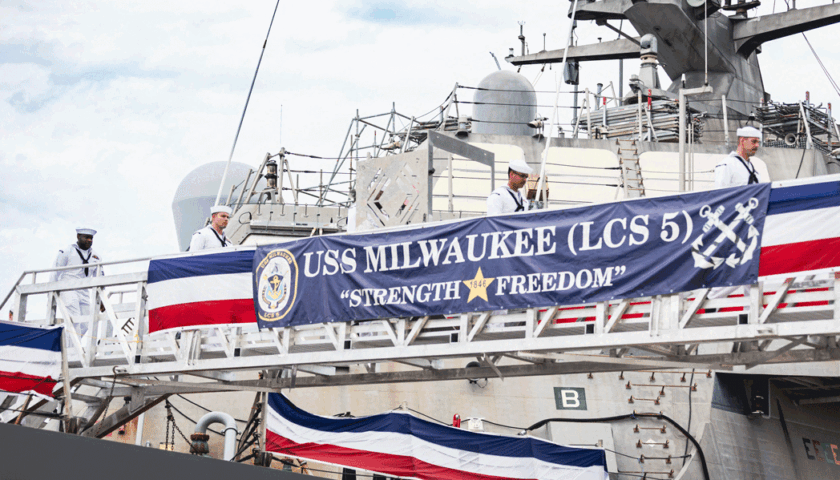 Freedom-variant littoral combat ship (LCS) USS Milwaukee (LCS 5) was decommissioned in Mayport September 8.
As an operational unit, Milwaukee and its crew played an important role in the defense of our nation and maritime freedom. Milwaukee and its Sailors were key to determine the operational success and deployment capabilities of today's LCS platform.
During the ceremony guest speaker, Vice Adm. Dirk Debbink (USN, Ret), former chairman of Milwaukee's commissioning committee wished the crew of Milwaukee fair winds and following seas as they bid farewell to their ship.
"We are all very proud of the way this ship served our Navy and our nation since that cold day in November 2015." said Vice Adm. Dirk Debbink (USN, Ret), former chairman of Milwaukee's commissioning committee. "She was the first true serial production ship of the Freedom Class, having incorporated literally hundreds of changes, lessons learned from Freedom and Fort Worth."
Milwaukee and its Sailors contributed a tremendous amount of work and time to ensure success of the LCS program during the ship's time in naval service. Milwaukee completed two successful deployments in April 2022 and June 2023. The ship deployed to U.S. Fourth Fleet and integrated with the embarked US Coast Guard Law Enforcement Detachment (LEDET), other US warships, Department of Defense, Department of Justice, Department of Homeland Security, and SOUTHCOM/JIATF-S. During their second deployment, Milwaukee and her embarked LEDETs, seized an estimated $30 million in suspected cocaine and three detainees during interdictions as sea, preventing 954kgs of cocaine from entering the United States. She also transported six detainees and case packages on behalf of USCGC BEAR in support of the counter-narcotic/interdiction mission. While deployed, Milwaukee provided maritime security presence enabling the free flow of commerce in key corridors of trade.
"Throughout the life of the ship, the Sailors that sailed Milwaukee led the way in training and operations that led to fleet improvements and culminated with operational success that supported national security objectives and demonstrated U.S. commitment to our allies." said Cmdr. Jason Knox, Milwaukee's commanding officer. "Not only can her Sailors be proud of their distinctive accomplishments, but the City of Milwaukee, Wisconsin can be proud of their ship, too."
Milwaukee was designed by Lockheed Martin and constructed by Marinette Marine Corporation (Fincantieri) Marinette, Wisconsin, Milwaukee was commissioned November 21, 2015, in Lake Michigan at Milwaukee's Veteran's Park. Mrs. Sylvia Panetta, wife of former Secretary of Defense Leon Panetta, served as the ship's sponsor.
USS Milwaukee (LCS 5) is the fifth United States Navy Warship named after the city of Milwaukee, Wisconsin. The ship represents the proud people of the Milwaukee community. Upon decommissioning, Milwaukee's Sailors will receive follow-on orders to new assignments.