USS Carney Returns From COMPTUEX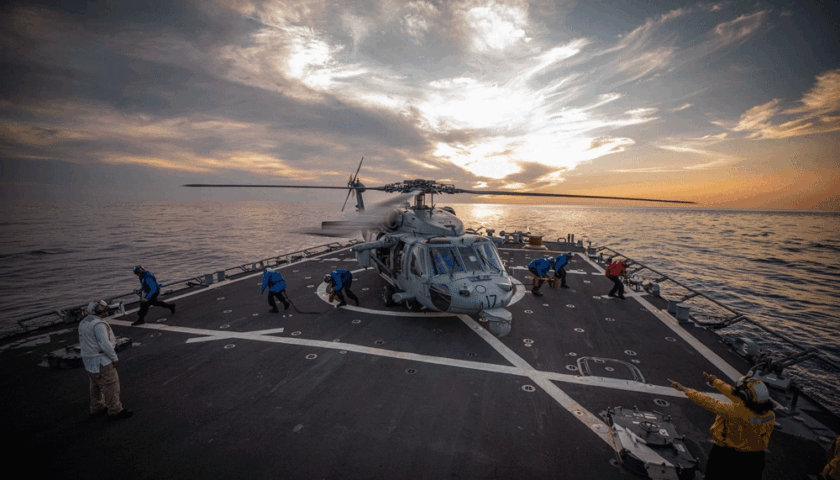 USS Carney (DDG 64) returned to its homeport of Naval Station Mayport, Florida July 30, 2023 following completion of a six-week underway that included its composite training unit exercise (COMPTUEX) with the Dwight D. Eisenhower (IKE) Carrier Strike Group (CSG).
COMPTUEX is an intense, multi-week exercise designed to fully integrate a CSG as a cohesive, multi-mission fighting force and to test their ability to carry out sustained high-end combat operations at sea.
Carney is an integrated combat weapons system that delivers combat capabilities to deter and, if necessary, defeat adversaries in support of regional stability. Cmdr. Jeremy D. Robertson, the commanding officer, and Cmdr. Myron E. Lind, the executive officer, drove the team to success throughout the series of progressively difficult events.
COMPTUEX fosters the interoperability and high-end skillsets required to maintain superiority. During the exercise, Carney demonstrated the combat power and flexibility of Arleigh burke-class guided-missile destroyers. It tested Carney across every required operational capability, simulating a variety of real-world events including air warfare, strait transits, responses to surface and subsurface threats, and electronic attacks. Carney also conducted flight operations; small boat operations; underway replenishments; visit, board, search and seizure training; and damage control, anti-terrorism and medical drills. One of the highlights of COMPTUEX was joining the Carlo Bergamini-class frigate ITS Virginio Fasan (F 591) in several joint training operations.
"We were able to seamlessly integrate with our allies and hone our join skills as we prepare to join the effort in keeping the sea lines and lanes of communication and commerce open," said Robertson. "I am incredibly honored by the performance of my crew and the excellence they achieved while they flexed every capability that we have on this training exercise to become better, smarter and faster than ever before."
Lind added, "COMPTUEX is a multifaceted training exercise designed to test the ship and its crew. I am immensely proud of this crew for the hard work and dedication that they put in to making this exercise both effective and worthwhile. Carney is now more prepared than ever to deploy as stewards of maritime security."
After a challenging COMPTUEX, the Carney crew is back home resting and recovering to prepare for their future deployment.