USS Blue Ridge Visits Brunei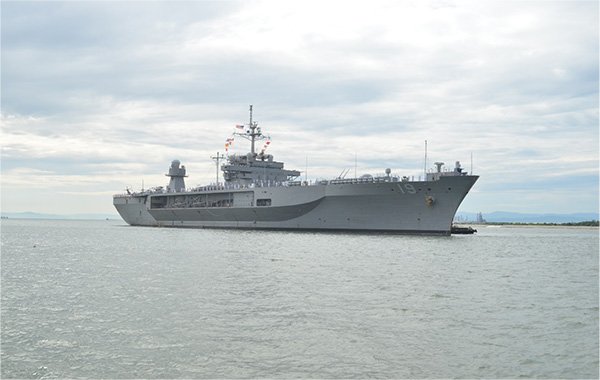 USS BLUE RIDGE of the United States Navy (USN) has arrived at Muara Commercial Port for a goodwill visit to Brunei Darussalam from 3 to 5 August 2023, led by Vice Admiral Karl Thomas, Commander of the USN 7th Fleet.
USS BLUE RIDGE is a Command Ship of the USN and is the flagship of the 7th Fleet based in Yokosuka, Japan. Upon arriving at Brunei Darussalam, USS BLUE RIDGE was welcomed with a ceremony organised by the Royal Brunei Navy (RBN) led by Commander Saiful Hazril bin Ali, RBN, Fleet Chief of Staff.
Vice Admiral Karl Thomas, Commander of the USN's 7th Fleet, hosted a visit by key leaders from the Ministry of Defence onboard USS BLUE RIDGE. The delegation consisted of Yang Mulia Major General Dato Paduka Seri Haji Muhammad Haszaimi bin Bol Hassan, Commander of the Royal Brunei Armed Forces (RBAF), Brigadier General Haji Mohammad Shanonnizam bin Sulaiman, Commander of the Royal Brunei Land Force (RBLF), Captain Haji Mohamad Sarif Pudin bin Matserudin, Acting Commander of the RBN, Brigadier General (U) Dato Seri Pahlawan Mohd Sharif bin Dato Paduka Haji Ibrahim, Commander of the Royal Brunei Air Force (RBAirF), Brigadier General (U) Dato Seri Pahlawan Haji Alirupendi bin Haji Perudin, RBAF Joint Force Commander, Colonel (U) Haji Mohd Muluddin bin Awang Haji Latif, Director of Intelligence, and Lieutenant Colonel Muhammad Suwardi Ariffin bin PDLDP Haji Abdul Latiff, Commanding Officer, RBAF Special Forces Regiment.
Officers from the USS BLUE RIDGE and KDB DARUSSALAM also had a coordination meeting in preparation for the upcoming passage exercise which will be carried out upon USS BLUE RIDGE's departure. Other planned interactions will include a Deck Reception and further engagements with RBN through social and cultural exchanges. Vice Admiral Karl Thomas, Commander USN 7th Fleet, and his delegation will also be paying a courtesy call to key leaders within the Ministry of Defense.
This series of interactions reflect the cordial defense and security relations between the RBN and USN established through years of interaction at the bilateral and multilateral platforms, where the RBN reaffirms its commitment to strengthening its bilateral ties with USN.