US Coast Guard Cutter Munro Arrives in Japan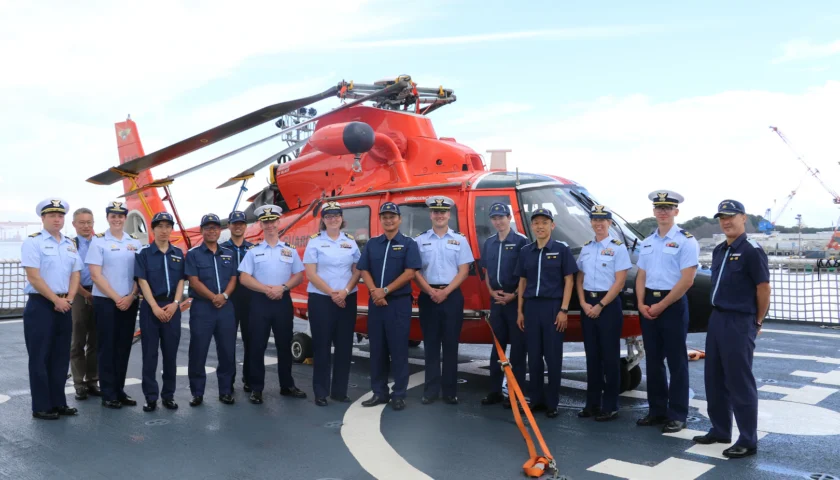 The U.S. Coast Guard Cutter Munro (WMSL 755) arrived in Yokosuka, its first international port visit while deployed in the Indo-Pacific August 6th.
While in Yokosuka, Munro's crew hosted several members of the Japan Coast Guard for professional exchanges including showcasing the Munro's small boat and aerial capabilities, and search-and-rescue operations. The visit enabled members from both services to discuss shared mission objectives and shared maritime security challenges.
"We are thrilled to have the opportunity to meet with the Japan Coast Guard and share each other's successes," said Capt. Rula Deisher, Munro's commanding officer. "It is a privilege for Munro and crew to work alongside our partners to support a free and open Indo-Pacific."
In May of 2022, the U.S. Coast Guard and Japan Coast Guard formally expanded cooperative agreements through a memorandum of understanding.
The new perpetual operation is an expansion of an agreement made in 2010, focusing on maintaining a free and open Indo-Pacific. The 2022 agreement is named SAPPHIRE, which stands for Solid Alliance for Peace and Prosperity with Humanity and Integrity on the Rule of law-based Engagement.
Munro, a 418-foot national security cutter, departed its homeport, Alameda, California, June 23 for a months-long deployment to the Western Pacific.
Operating under the tactical control of the U.S. 7th Fleet, the cutter and crew will engage in professional exchanges and capacity-building exercises with partner nations while patrolling the region in support of maritime security. Munro follows on the heels of the U.S. Coast Guard Cutter Stratton (WMSL 752), who recently completed an Indo-Pacific patrol.
Munro is operating as part of Commander, Task Force (CTF) 71, U.S. 7th Fleet's principal surface force. CTF 71 is responsible for the readiness, tactical and administrative responsibilities for forward-deployed Arleigh Burke-class guided-missile destroyers as well as any surface unit conducting independent operations in the region.
U.S. 7th Fleet is the U.S. Navy's largest forward-deployed numbered fleet, and routinely interacts and operates with allies and partners in preserving a free and open Indo-Pacific region.
U.S. Coast Guard Pacific Area is responsible for U. S. Coast Guard operations spanning across six of the seven continents, 71 countries and more than 74 million square miles of ocean. It reaches from the shores of the West Coast of the United States to the Indo-Pacific, Eastern Pacific, Arctic and Antarctic regions. Pacific Area strives to integrate capabilities with partners to ensure collaboration and unity of effort throughout the Pacific.
As both a federal law enforcement agency and an armed force, the U.S. Coast Guard is uniquely positioned to conduct defense operations in support of combatant commanders on all seven continents. The service routinely provides forces in joint military operations worldwide, including the deployment of cutters, boats, aircraft and deployable specialized forces.
Commissioned in 2017, Munro is one of four Coast Guard legend-class national security cutters homeported in Alameda, California. National security cutters are 418-feet long, 54-feet wide, and have a 4,600 long-ton displacement. They have a top speed more than 28 knots, a range of 12,000 nautical miles, endurance of up to 90 days and can hold a crew of up to 170.
National security cutters feature advanced command and control capabilities, aviation support facilities, stern cutter boat launch and increased endurance for long-range patrols to disrupt threats to national security further offshore.