US 4th Fleet Continuing Promise 2023 Deployment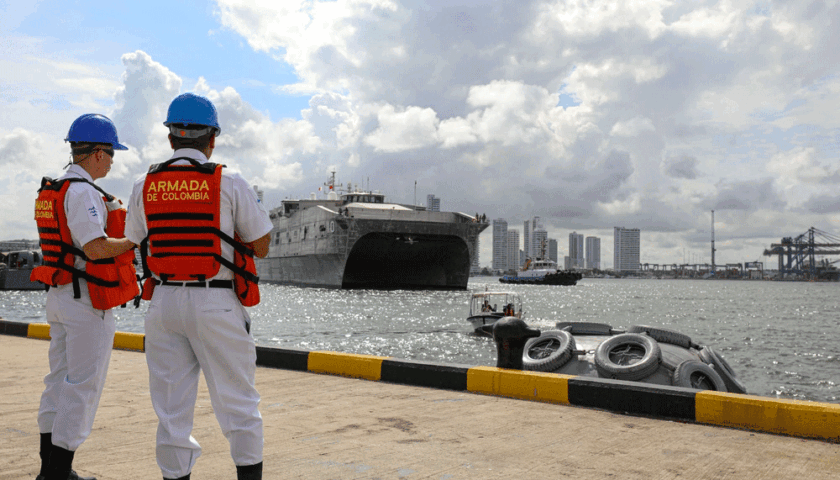 The U.S. Navy expeditionary fast transport USNS Burlington (T-EPF 10) will deploy to the U.S. Southern Command area of operations over the next two months as part of U.S. Naval Forces Southern Command/U.S. 4th Fleet's Continuing Promise 2023 mission. Detailed planning has wrapped up for the Burlington to visit Panama, Colombia, Trinidad and Tobago, and Grenada. During these mission stops, Continuing Promise medical teams will focus on working alongside partner nation medical personnel to provide care in community clinics to increase medical readiness, strengthen partnerships, and enhance the combined capabilities of the U.S. Navy and partner nations to respond to public health disasters and humanitarian crises.
"The Continuing Promise mission reflects our enduring commitment to the region as we work collaboratively with our friends to ensure a secure, free, and prosperous hemisphere," said Rear Adm. Jim Aiken, commander of U.S. Naval Forces Southern Command/U.S. 4th Fleet. "Continuing Promise 2023 allows us to work together with our friends in partner nations to improve lives."
The Burlington will bring a medical engagement team to each mission stop to provide some direct patient care in community clinics and through host nation medical facilities. The team includes veterinarians who will work with animals in the host nation, biomedical technicians, Navy Seabees who will conduct small engineering projects, and the U.S. Fleet Forces Navy Band Detachment, which will entertain people through school visits and concerts.
Cmdr. Charles Castevens will serve as the Continuing Promise 2023 Mission Commander. "This is an ideal opportunity for us to make a difference in four partner nations," said Castevens. "Continuing Promise 2023 will strengthen partnerships and positively impact the people we come into contact with," he said.
Continuing Promise 2023 will also include training and subject matter expert exchanges on various medical and humanitarian assistance/disaster relief topics, and leading seminars on Women, Peace, and Security (WPS).
WPS is a United Nations initiative that started with UNSCR 1325 signed in 2000. It was a public acknowledgement that women are more adversely impacted by conflict and crisis, and that including women in security planning will lead to a more peaceful world. The Department of Defense (DoD) signed the WPS Implementation Plan in 2020. It outlines defense objectives and goals that the DoD will strive to achieve in order to move the bar toward full WPS implementation. U.S. Southern Command and U.S. 4th Fleet are dedicated to WPS and the promotion of gendered perspectives.
Continuing Promise 2023 marks the 13th mission to the region since 2007 and the first involving USNS Burlington. The mission will also foster goodwill, strengthen existing partnerships with partner nations, and encourage the establishment of new partnerships among countries, non-government organizations, and international organizations.
The USNS Burlington is an Expeditionary Fast Transport (EPF), a shallow draft, all aluminum, commercial-based catamaran capable of regional transport of personnel and cargo lift, providing combatant commanders high-speed sealift mobility with inherent cargo handling capability and agility to achieve positional advantage over operational distances. The Burlington will bring the personnel, equipment and supplies necessary to conduct the Continuing Promise mission.