Thirty-year Labor of Love Gifted to Navy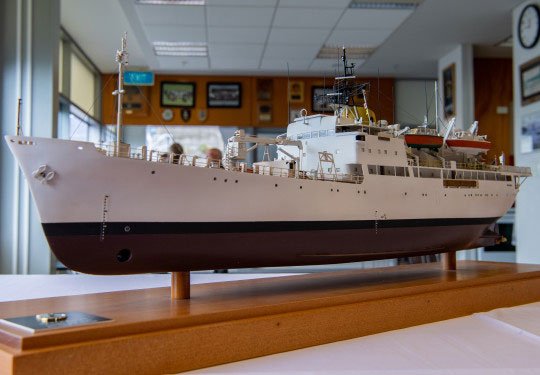 More than a quarter of a century after HMNZS Monowai decommissioned from the RNZN fleet, a meticulously-constructed model has made its return to Devonport Naval Base.
A model of the former survey ship has been has been gifted to the Navy by Ashburton model maker Malcolm Taylor.
Malcolm is a widely acclaimed model maker who has been perfecting his craft over 60 years. In that time he has built six other RNZN vessels, although he admits the model of Monowai has taken the longest – over 35 years on and off.
Commodore Andrew Brown, Deputy Chief of Navy, accepted the gift at HMNZS Matataua, the Navy's Dive and Hydrographic unit.
Monowai was the Navy's hydrographic survey vessel between 1977 and 1997. Dubbed the 'Ghost of the Coast', the ship remapped most of the New Zealand coastline including the Chatham, Campbell and Auckland Islands.
Malcolm, a former traffic engineer for the Christchurch City Council, says he saw Monowai at Lyttelton in the eighties and thought it would be an interesting ship to model.
He has also built models of HMNZ Ships Te Kaha, Kiwi, Canterbury, Southland and Hawea, and HMS Philomel.
HMNZS Monowai is notable for being the first RNZN ship that women were allowed to serve on.
In 1981, women constituted 8.3 percent of the RNZN, mostly in the Supply and Secretariat Branch, and in the telecommunication trades. It wasn't until 1986 when Chief of Naval Staff was authorized to offer women "temporary sea-going postings…. in non-combatant ships". In December, 13 female ratings and one officer joined Monowai for the 'Women at Sea Pilot Study' (WAPS), designed to run for three years.
Two of those women were Captain Maxine Lawes and Chief Petty Officer Writer Vicki Ryan, who attended Malcolm's presentation of the Monowai model.
The Women at Sea program was successful. From January 1989, all women entering the RNZN had to serve at sea, except those in a limited number of shore-only trades.
Today, women make up 27.4 per cent of Naval personnel, and serve in all roles.