SNSZ Launched the Lev Chernavin Mine Defense Ship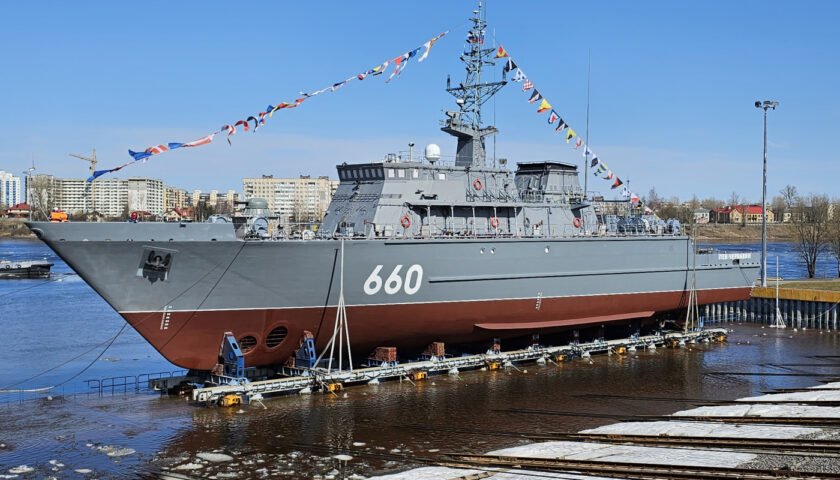 At the Sredne-Nevsky Shipbuilding Plant (part of the United Shipbuilding Corporation), the ceremony of launching the Lev Chernavin mine defense ship took place.
The event was attended by Georgy Poltavchenko, Chairman of the Board of Directors of USC JSC, Vice Admiral Igor Mukhametshin, Deputy Commander-in-Chief of the Russian Navy for Armaments, Kirill Polyakov, Vice Governor of St. Central Marine Design Bureau "Almaz" Konstantin Golubev.
Georgy Poltavchenko, Chairman of the Board of Directors of USC JSC, noted: "The Sredne-Nevsky Shipyard has no equal in the construction of minesweepers. Shipbuilders of the SNSZ managed to gain a "conveyor" speed for the delivery of ships of the Alexandrite project. These ships have proven themselves in various fleets. The minesweeper will bear the name of Lev Davidovich Chernavin, a man who made an invaluable contribution to the development of the Russian Navy and commanded the largest formation of the Navy: the fourth squadron of the Red Banner Northern Fleet. It consisted of more than forty submarines, which were constantly at sea on combat duty.
The ship was laid down on July 24, 2020 and became the eighth minesweeper built at the Sredne-Nevsky Shipyard under the Alexandrite project. The godmother of the ship was the widow of Rear Admiral Galina Chernavina. She was given the honorable right to break a bottle of champagne on the side of a minesweeper.
The ships of the Alexandrite project have the world's largest hull made of monolithic fiberglass, formed by vacuum infusion. Its weight is much less compared to the metal case. At the same time, its strength is significantly increased. Ships made of composite materials are not afraid of corrosion, and the service life, subject to operating standards, is unlimited.
After launching the "Lev Chernavin" stood at the pier of the plant. Construction work will continue here. In the near future, the factory commissioning team will begin preparations for the first stage of mooring trials. The transfer of the ship to the Russian Navy is expected at the end of 2023.
The project was developed by the Almaz Central Marine Design Bureau (part of the United Shipbuilding Corporation) for the Russian Navy. These ships belong to a new generation of mine-sweeping forces and are designed to deal with sea mines. Minesweepers can detect them both in the water of marine areas and in the ground. However, they do not have to enter the danger zone. To combat mines, ships use different types of trawls, as well as remote-controlled and autonomous uninhabited underwater vehicles.