SLNS Samudura Taking Part in Exercise AMAN in Pakistan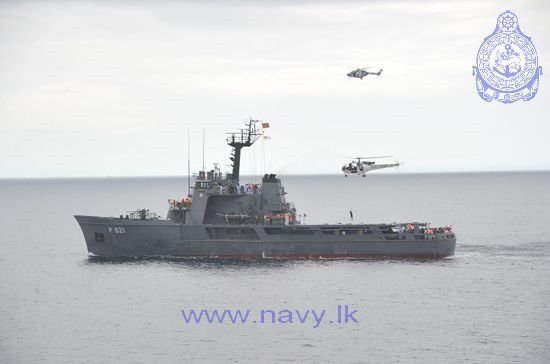 SLNS Samudura arrived in Karachi from Colombo December 1st to take part in the multinational naval exercise AMAN hosted by the Pakistan Navy. At the directives of Commander of the Navy, the ship is scheduled to take part in the 08th edition of 'AMAN' representing Sri Lanka Navy. The departing ship was sent off amidst customary naval traditions at the port of Colombo.
This year's exercise has been organized on the theme 'Together for Peace and Security' and it will be held in Karachi from 10th to 14th February. Further, navies from 110 countries have been invited to join the multinational naval exercise.
Meanwhile, the exercise is primarily focused on maintaining peace and security in the Indian Ocean region and it encompasses both Harbor and Sea Phases. Besides, SLNS Samudura is expected to attend a series of naval exercises including maritime security, counter piracy and humanitarian assistance, Replenishment at Sea (RAS), Manoeuvre and Formation, Firing Practices and Visit Board Search & Seizure (VBSS) exercises in 'AMAN' 2023.
Taking part in this nature of naval exercises would open new avenues to the Sri Lanka Navy to build inter-operability with regional and extra-regional partners, exchange best practices and procedures in maritime operations and undertake new challenges in maritime domain and collectively find solutions to overcome those issues.
Meanwhile, the Commanding Officer of SLNS Samudura Captain DMDC Bandara exchanged views with regard to the exercise with the Deputy Area Commander Western Naval Area, Rear Admiral Rohitha Abeysinghe and Director Naval Operations, Commodore Buddhika Liyanagamage on board SLNS Samudura, before the departure. Marking the significance of the occasion, the Commanding Officer of SLNS Samudura presented a memento to the Deputy Area Commander.