Singapore & Indonesia Conduct Bilateral Exercise Eagle Indopura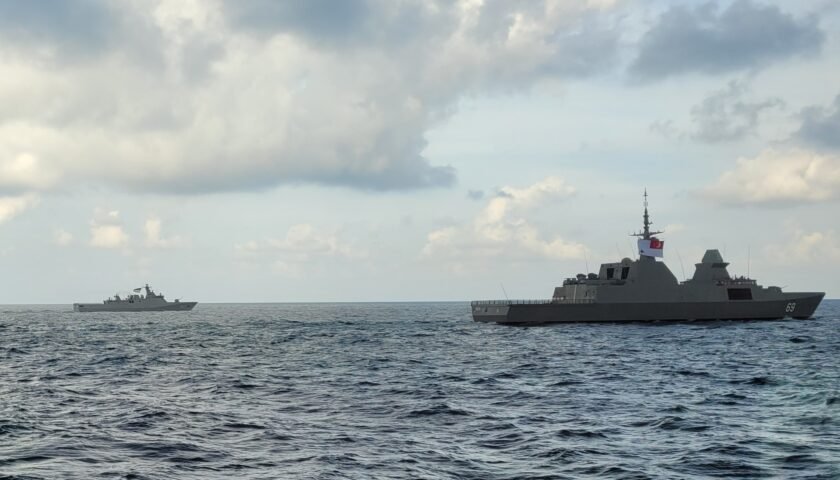 The Republic of Singapore Navy (RSN) and the Indonesian Navy (TNI AL) conducted the 27th edition of Exercise Eagle Indopura from 22 to 27 August 2023 in waters off Batam. The RSN deployed a Formidable-class frigate RSS Intrepid, a Victory-class missile corvette RSS Vigour and a Fokker-50 Maritime Patrol Aircraft. The TNI AL deployed a Diponegoro-class frigate KRI Sultan Iskandar Muda, with an embarked AS565 Panther helicopter, a Sampari-class fast attack craft KRI Halasan and a CN-235 Maritime Patrol Aircraft.
During the shore phase, sailors from both navies conducted joint planning, professional exchanges, and sports activities. At sea, both navies conducted a series of serials including gunnery firing, as well as air defense, communication and maneuvering exercises. In addition, both navies exercised responses to maritime security threats, leveraging information provided by their respective operations centers and the RSN's Information Fusion Centre to track simulated vessels of interest. The exercise concluded with a sail-past of the participating ships.
Commanding Officer of RSS Intrepid, LTC Chua Sheng Hao highlighted the significance of the exercise in enhancing professionalism and understanding between the two navies. He said, "Exercise Eagle Indopura serves as a valuable platform for both navies to enhance our mutual cooperation and understanding. The exercise has also allowed sailors from both navies to collaborate, learn from one another, and strengthen warm ties of friendship and partnership."
Held since 1974, Exercise Eagle Indopura is the Singapore Armed Forces' longest-running bilateral exercise with a foreign military. The RSN and TNI AL conduct regular professional exchanges, exercises and port calls, and also collaborate through arrangements such as the multilateral Malacca Straits Patrol and bilateral Coordinated Patrol Indonesia-Singapore (CPIS). These regular interactions have enhanced the close ties and mutual understanding between the personnel of both navies.