RFA Tidesurge Visits Belfast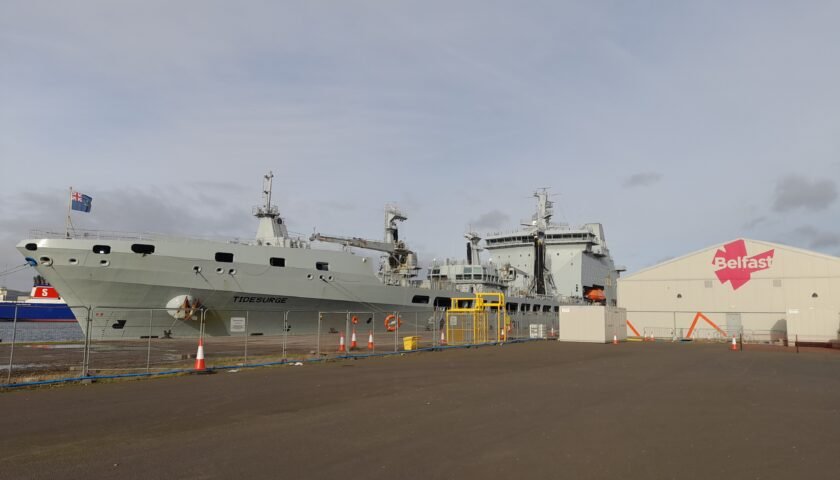 The tanker – one of four built to meet the fuel requirements of HMS Queen Elizabeth/Prince of Wales and their carrier strike groups – is spending six days in Belfast.
She was given a plum berth in Belfast Lough, one normally occupied by cruise ships.
She's hosting several visits for local industry and maritime leaders – Harland and Wolff, for example, will carry out the bulk of the work on the Royal Fleet Auxiliary's three next-generation solid support ships, successors to the ageing Fort Victoria – plus visits from local Reservists, University students and Sea Cadets.
Comprehensive tours have been arranged for Brigadier James Senior CBE (Commander 38 (Irish) Brigade), Commander Rob Milligan (Senior Naval Officer Northern Ireland), Professor Alastair Adair (a Royal Navy Reserve Honorary Captain), Ian Lang of Belfast Harbour and members of 38 Brigade Irish Regiment.
Historians from HMS Caroline, a WW1 cruiser which survived the Battle of Jutland and is now a floating museum in the Titanic Quarter, took a break from preparing to reopen the ship on April 1 now pandemic has passed and reciprocated RFA hospitality by offering a free look around the WW1 veteran.