New Jersey Grants $5 Million for USS New Jersey Drydocking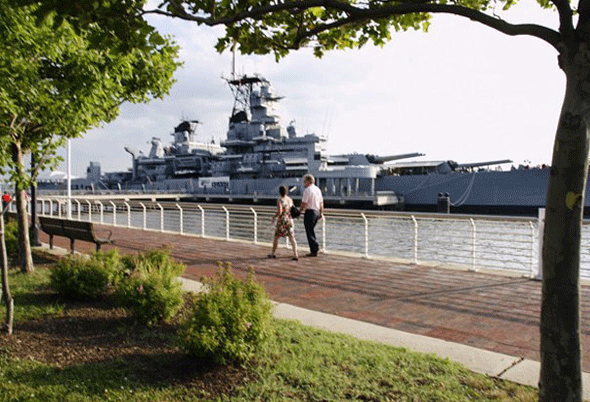 By Jack Willard
The Battleship New Jersey announced August 2, 2023 that it is set to receive $5 million to dry dock the ship from the New Jersey Historical Commission pursuant to FY2024 Appropriations Act that was signed into law by Governor Phil Murphy in late June. The Historical Commission sits in the New Jersey Department of State.
The Navy's guidelines for maintaining inactive warships call for inactive ships to be dry docked for periodic underwater hull maintenance once every 20 years. The last time Battleship New Jersey was out of the water for maintenance was over 30 years ago, in 1991, while she was still an active warship. For the dry dock, the New Jersey will briefly leave the Camden Waterfront, be towed to Philadelphia for a period of likely between 60-100 days, and then towed back to Camden to her resting place.
"New Jersey is rich with many historical sites that have shaped our prominent history, including the Battleship New Jersey, which saw many victories in her heyday," said New Jersey Governor Phil Murphy. "Our Administration understands that New Jersey's historical sites play a key role in the success of our tourism industry. In the recently signed Fiscal Year 2024 budget, millions of dollars were allocated to the New Jersey Historical Commission in an effort to revitalize these sites, which are visited by hundreds of thousands of tourists annually. We look forward to welcoming the Battleship back home once she is returned to her glory."
"Our commitment to preserving our historical treasures runs deep. With $5 million in state funds, we ensure the Battleship New Jersey, a symbol of our nation's valor, continues to stand tall in the pages of history," stated New Jersey Secretary of State Tahesha Way.
"By taking a proactive approach of dry docking her now, we're saving millions down the line while ensuring the survival of the ship for years to come. We're incredibly grateful to the many members of South Jersey's legislative delegation and Governor Murphy for including us in this year's budget," said Phil Rowan, CEO of the Battleship New Jersey.
"Safeguarding irreplaceable historic objects and places, like the Battleship New Jersey, ensures they bridge the past with the present, inspiring future generations," said Sara Cureton, Director, New Jersey Historical Commission. "Dry docking the ship after 32 years honors its legacy, preserving its grandeur for the future."
The three critical tasks that must be accomplished in dry dock are cleaning and repainting the hull to prevent corrosion, repairing corrosion to the 132 "blanks" the Navy welded over the ship's through-hull openings, and replacing the more than 1,304 anodes that make up a critical part of the ship's cathodic protection system to prevent the dissimilar metals that make up the ship's hull from wasting away.
"The Battleship New Jersey is not only one of the United States' most decorated ships in naval history, but it also serves as one of the Tri-state area's greatest tourist attractions," said NJ State Senator Nilsa Cruz Perez. "We here in South Jersey are so happy to have the Battleship call Camden City it's home. Our District 5 team is aware of and understands the need to have the ship dry docked in order to make necessary repairs. We were thrilled to be able to help secure $5,000,000 in State funding for these crucial improvements."
"Not only is the Battleship a fixture in South Jersey, but it is also the most decorated battleship in the history of the US Navy," said NJ State Senator Troy Singleton. "I was proud to help secure funding in this year's budget for dry docking so the necessary repairs can be made to secure the ship as a lasting memorial to those who have served."
"We are proud to have the Battleship New Jersey docked in South Jersey, where it honors all those who served on the ship during its nearly 50 years commissioned by the Navy," said NJ State Senator Jim Beach. "I was happy to help secure funding to allow for the ship's dry docking so it can continue to be a meaningful fixture in our community and beyond for decades to come."
"As we honor those who defended our freedoms aboard the USS New Jersey, we also acknowledge the past efforts of Congressman Donald Norcross and former Assemblywoman Pat Jones, who brought this symbol of valor to Camden's shores," said New Jersey Assembly Majority Leader Louis Greenwald. "Our $5 million investment to dry-dock this historic battleship ensures its preservation and enjoyment for future generations."
"The USS New Jersey is one of New Jersey's most celebrated tourist attractions, and we're proud she's docked right here on the Camden Waterfront," said NJ Assemblymen Bill Moen, Jr. and Bill Spearman jointly. "The ship is in need of some essential repairs, and our District 5 team was happy to play a role in helping to deliver this important funding for the Battleship so that they can continue their celebrated STEM programming and overnight encampment program for Camden County's youth."
"The Battleship is not only an incredible tourist attraction for South Jersey, but it's a unique educational tool for our young people and students of all ages," said NJ Assemblywoman Pamela Lampitt. "With the upcoming dry docking, we'll preserve her and be able to grow distinctive educational opportunities for years to come."
"The Battleship New Jersey is an incredible piece of history that has traveled the world and aided our military during some of this country's most unstable times like World War II, the Korean War and the Vietnam War," said Louis Cappelli Jr., Commissioner Director for the Camden County Board of Commissioners. "Even years after its decommissioning, the Battleship plays an important part in our community here in Camden County and preserving it, is something we needed to prioritize. These funds will allow the Battleship to receive some much-needed repairs so it can remain the educational and historical epicenter of Camden's waterfront for years to come."
"The staff and Board of the Battleship New Jersey take seriously our obligation to preserve and protect the ship as a museum and memorial for generations to come," said Ryan Szimanski, Vice President of Curatorial & Education for the Battleship New Jersey and the Executive Director of the Historic Naval Ships Association.
The ship will be dry docked at the Philadelphia Naval Shipyard's Dry Dock Number 3, a site of massive importance to the Battleship. This is where the ship was originally built from 1940-1943 for World War II and then reactivated from 1967-1968.
The Battleship New Jersey Museum and Memorial is in the process of securing the remaining funding needed for dry docking with the expectation that the ship will be dry docked in the fourth quarter of 2023 or the first quarter of 2024. More information will be forthcoming.